Posted by fbounds on Saturday, June 14, 2008
It came in yesterday while I was at work. My wife unpacked it and strummed across it for me over the phone. :) It was a long afternoon!!! It is a beauty and what great tone. There definitely is a unique Stelling tone. I really liked it for some of the more melodic breaks that I do on occasion and it seems to get as loud as I allow it to. It doens't seem to break apart if I play it harder and is clear for softer passages. The thing that really impresses even more than the tone is the fact that I can capo and not have to retune (or just a minor tweak). I will be able to spend more time pickin' than tuning. :) Great banjo!!!
---
3 comments on "Stelling Red Fox arrived!"

banjotef Says:
Saturday, June 14, 2008 @5:27:04 PM
Congratulations, Frank! Nothin' like a great, new banjo!!
Happy pickin'!!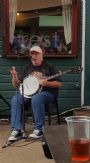 joemac Says:
Sunday, June 15, 2008 @3:18:38 AM
good job Frank, hope you enjoy many years of playing together......Joe

fbounds Says:
Sunday, June 15, 2008 @4:54:41 AM
Thank you!
You must sign into your myHangout account before you can post comments.