Posted by Branding on Wednesday, April 16, 2008
Hello and welcome to my page, glad you stopped by!
Well just wanta tell you about my banjo adventure, yeap it's an adventure, one I might add has been a blast! Tonight I have learned a few more things and hope to perfect soon, well not perfect but as close as I can get, know what I mean. So this week I will be working on things that seem really hard right now but I hope by the end of the week I will think they are easy.
Ok well my banjo (Sally) and I have a new friend coming and we can't wait to meet her, she is an RK80, yea Ronald Walker has been so nice to send her my way, what a guy! Thanks Ron. She should arrive here Friday and we plan on breaking her in by playing her most of the day, from what I hear she's a beauty and loves to be played. We can't wait. With Fritz teaching me and Ron being so kind how could I fail?Right, well we are gonna give it all we got and if that still don't make a pretty sound it's ok cause we're having FUN! ANd thats what it's all about right? Well I guess I will close for now and will letcha know how our new friend is doing in the near future! We are so EXCITED!!
So keep in touch and write back let me know whatcha think.
Angela
---

Badger Says:
Thursday, April 17, 2008 @4:35:26 AM
An RK-80! It it is all I have heard you are in for a treat. Have fun.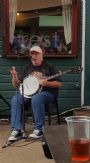 joemac Says:
Thursday, April 17, 2008 @5:54:44 AM
got an rk82...you will have fun....go for it.

Branding Says:
Thursday, April 17, 2008 @7:38:36 AM
thanks guys appreciate your comments I know i will fall in love all over again, wait can you do that

Ks_5-picker Says:
Thursday, April 17, 2008 @5:36:29 PM
Angela,are you ABSOLUTELy certain it's a girl? Sometimes you can't tell until they are a bit older. haha.
I know Ron probably thought it was a shemale,but you better pop the resonator off and check and make sure.......Rod

Branding Says:
Thursday, April 17, 2008 @9:16:19 PM
lol you do have a point there
You must sign into your myHangout account before you can post comments.