Yesterday I was reading an article in Banjo Newsletter written by a guy I used to know. Some dates were mentioned and I was amazed all that time had gone by. The memories that were brought back seemed to have happened recently, not seven or eight years ago. I started playing the banjo in 1978 and took serious lessons when I moved to Arkansas in 1980. I played a lot and never went anywhere without the banjo. I even took it on canoe trips ala Deliverence without the pig squealing LOL. In 1984 I got interested in the restoration of a 1972 Jaguar E Type and the banjo went in the closet. Time went by and before I knew it 17 years had gone by. I occasionally would play it a day or two and back into the closet it would go. Once it was in it's stand in the living room and a guy saw it and kept telling me to start playing again. Little by little I did. This was in 2001. I even took some lessons from the same person that I did in 1980 to help get me going again. I also took some lessons a couple of years later from another great player to help me with back-up playing. My new goal was to concentrate on back-up, not learning song after song. This didn't last and I ended up picking more songs than I did in the 80s, however, I did enjoy back-up playing more. I also started tinkering as I did before with set-ups and changing the sound. In 2004 I started the Arkansas Banjo Co. This started a huge controversy as I contracted my woodwork. This allowed me to attend 12 to 14 festivals each summer and I still do. The company is doing fine and I still contract my woodwork LOL. I developed a head tensioning system and designed my own rim to lower the bass response. And I'm having fun which really is the ultimate goal. It just amazes me that the time is going so fast and getting old probably has a lot to do with it. The last seven or eight years have simply disappeared.
---
4 comments on "Where Did The Time Go?"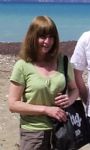 u k sandra Says:
Thursday, March 6, 2008 @3:36:27 PM
And the older you get, the quicker they disappear. Its frightening.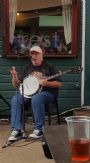 joemac Says:
Wednesday, July 23, 2008 @7:42:43 AM
Be like me joe, think of yourself as a fine wine, theres a lot of time and love and experience gone into the taste, and all in all, it tastes pretty good.....getting old is fun!!

copron Says:
Wednesday, August 10, 2011 @4:59:08 PM
I can't believe I have never ran into you. I only live 45 miles from you and have played banjo around this state for 40 years. Maybe I'll get to meet you one day.

wbalsam1 Says:
Thursday, November 12, 2015 @7:00:47 AM
Your banjos are beautiful and sound great! Also, you're a real nice man and I enjoyed meeting you in Mountain View, AR and listening to you pick one of your banjos.
You must sign into your myHangout account before you can post comments.