I have a very old, fretless, open back, 5 string, banjo that I just had restored. I would like to know more about it and its history, if possible. Can I post a picture? It has a Brazilian Mahogany veneer on the neck and the body.
Can someone tell me how to find out more about the banjo? My partner found it in the attic of a colonial home in Connecticut. He was roofing the house. He asked the owner about it and she gave it to him although he offered to buy it. The house had been in the family for generations and apparently, someone had once played the banjo. I carried it around for 45 years after my partner died in an accident. He had scratched the neck where the frets would have been hoping to learn to play it. The restorer put a different ring on to hold the head but I have the original brass hoop that held the head. The bolts around the sides that hold the head have brass shaped like a shield behind each one. There are 14 bolts holding the head.
Hope you don't mind the long story. Can anyone tell me something about the banjo?
Thanks, Anita
---
3 comments on "Very, very, old fretless minstral banjo"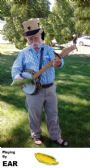 mike gregory Says:
Thursday, March 4, 2021 @10:27:55 AM
Are you asking HOW TO post a picture here?
Or if you MAY.
If you need help posting pictures, let me know.
Open a topic on COLLECTORS' CORNER, and post the pictures there. front view, back, inside the body, close-up of outside the body, close up of tuning pegs, front and back.
And, welcome to the HangOut

Anita Louise Says:
Thursday, March 4, 2021 @10:40:48 AM
Thank you so much Mike. But, how do I find COLLECTORS CORNER?
Anita

Texasbanjo Says:
Thursday, March 4, 2021 @12:40:53 PM
Saleba

The collectors corner (forum) is located on the left hand side of the page. Click on forums and then on browse forums, scroll down to the collector's forum and click on that. Then in the upper left hand side click on post new topic. Give your topic a subject, ask your question(s) and then scroll to the bottom of the page where you should find attachments and the pictures you have posted on your home page. Click on the picture(s) you want to add to your new topic, click on view to be sure you've got them on correctly, and then on post reply. Then wait for answers.

There are pictures on your home page, so you should be good to go.
You must sign into your myHangout account before you can post comments.