O My Friends how I have missed you all! So glad to be back!
My banjo lessons are progressing! My banjo teacher is awesome. I am very lucky!
I have now learnt A shaped chords, G Shaped chords and D shaped chords. I am working at getting faster on the changes now.
I have got down the 12 Bar Chord backing down pretty much pat, so I am making progress.
I am starting to go over some old pieces and I don't know some of them so well anymore. Some that I had a passing play with have gone so I need to get back to them.
Looking forward to catching up with you all!
---
4 comments on "Making progress with my Banjo Playing! (Kate is back!)"

hoodoo Says:
Monday, July 15, 2019 @4:30:29 PM
Don't hesitate to share a recording of your progress!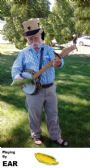 mike gregory Says:
Monday, July 15, 2019 @5:00:37 PM
And if you DO hesitate, hesitate for only the briefest of moments!

Like the guy said during the Houdini water escape trick:
"How long can you hold your breath?"

Yeah, only THAT long.

AndyW Says:
Tuesday, July 16, 2019 @11:19:26 AM
Hello there Kate, most of the same crowd are still here. Not 'blogging' quite as much at the moment though.

pickn5 Says:
Wednesday, July 17, 2019 @3:26:12 AM
Happy your back. Post a video or sound file and keep picking.
You must sign into your myHangout account before you can post comments.