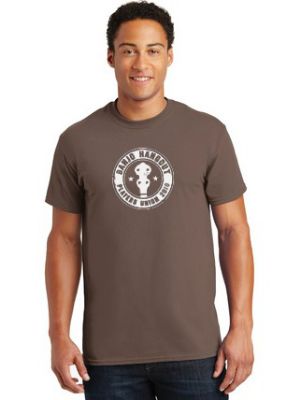 Hi All!
It took me a while to finalize it, but here is the design for 2018 Players Union shirts!
This is based on a design we used back in 2009, although it has been modified a bit for a cleaner look. (This has always been one of my favorite designs, so I figured it was time to bring it back so I can replace my warn-out shirt!)
We have different shirt colors for ladies, as well as a men's Pocket T, long-sleeve, and hoodie. See them all on the Players Union page.
Thanks to everyone who has been a member of the Players Union over the years. Your contributions have helped to fund vital upgrades and maintenance of the Banjo Hangout so it can continue to thrive and grow!
Reminder: Players Union members receive the following benefits:
Members only shirt (a new design each year!) (You may join for $20/year if you'd like to be a member but not receive a shirt)
automatic daily entry into Hangout drawings
exclusive discounts with Hangout sponsors (view current list of discount codes)
10% off merchandise at the Hangout Store (use the code here)
two "Banjo Hangout Players Union" case stickers (for memberships that include a shirt)
a union shield attached to your profile
Google ads hidden throughout the site
---
9 comments on "2018 Players Union Shirt Design announced"

bob gregory Says:
Tuesday, December 12, 2017 @10:00:07 PM
Hi , the new shirts look great ,I like the colour of the long sleeve t shirt
When will they be available to order thanks bob

schlange Says:
Wednesday, December 13, 2017 @10:22:49 AM
Hi bob gregory,
If you're already a Players Union member, your membership probably expires sometime in 2018. That means if you renew now, you'll be on the list to get the shirts as soon as we get them (first week of January).

If you're not currently a Players Union member, you'll need to wait until Jan 1 to join if you want the 2018 shirt.

Here's more info on how renewals/shirts work: banjohangout.org/store/union-renewals.asp

bob gregory Says:
Wednesday, December 13, 2017 @6:47:20 PM
Hi Eric , my membership is paid up to 2019 , but when I go into buying a shirt I only see the 2017 shirts so how to I go about getting the 2018 . Just followed your link it takes you the 2017 shirts as I would like to buy the long sleeve in a large thanks Bob

jbickfor Says:
Wednesday, December 13, 2017 @8:00:32 PM
Hi, I just joined and paid for a t-shirt because the email sent out on December 13 was touting the new 2018 design and included a link to the signup page, which made it sound an awful lot like signing up would get you the 2018 design. Now I see here that only signups after January 1 get the 2018 shirt? That's really deceptive. If that had been made clear in the email or at any point in the signup process, I would have waited. Can you please send me the 2018 design t shirt whenever it becomes available rather than the 2017 design?

schlange Says:
Thursday, December 14, 2017 @5:29:27 PM
Hi jbickfor,
I'm sorry if it was confusing, that certainly wasn't my intention! When you checked out, the cart said "2017 shirt" in it... that's one way I try to make it clear. I've also got the "How Renewals Work" page (banjohangout.org/store/union-renewals.asp) which explains it in detail.

Anyway, I just updated your order so you'll get the 2018 shirt. I also extended your membership so it will end on 1/1/19, which means when you renew it you'll get the 2019 shirt.

Thanks for signing up!

banjo_brad Says:
Wednesday, January 10, 2018 @10:40:40 AM
The shirt page shows 2 colors for the men's pocket tee. I was unable to find where to specify which color I want, which is the Brown one.

You must sign into your myHangout account before you can post comments.