Posted by yopasjim on Friday, June 3, 2016
This is to great! I found this today in my personal study from The Message Bible
Psalm 150:1-6 (MSG) - "Hallelujah! Praise God in his holy house of worship, praise him under the open skies; 2 Praise him for his acts of power, praise him for his magnificent greatness; 3 Praise with a blast on the trumpet, praise by strumming soft strings; 4 Praise him with castanets and dance, praise him with banjo and flute; 5 Praise him with cymbals and a big bass drum, praise him with fiddles and mandolin. 6 Let every living, breathing creature praise GOD! Hallelujah!"
Got to love it!
---
6 comments on "Banjo in the Bible"

n1wr Says:
Friday, June 3, 2016 @3:44:03 PM
Would be nice...but King James version says"praise him with stringed instruments and organs." Don't think banjos existed back then. You must have a very modern bible!

yopasjim Says:
Friday, June 3, 2016 @11:05:12 PM
I have several Bibles...I don't usually use THE MESSAGE BIBLE. I just thought it was humorous!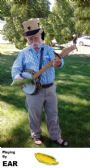 mike gregory Says:
Saturday, June 4, 2016 @5:50:45 AM
Psalm 66:1 (KJV) specifically commands
"Make a joyful noise"

And THAT, my friends, is MOST readily accomplished with the beloved Banjo.

As to how far back banjos existed, Shirley you must be joking.
There are ancient Egyptian murals showing instruments with strings and hide heads.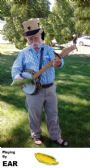 pastorharry Says:
Thursday, March 23, 2017 @12:40:57 AM

I will sing a new song unto thee, O God: upon a psaltery and an instrument of ten strings will I sing praises unto thee. Psalm 144:9 (Ten strings+ 2 banjos? )

yopasjim Says:
Thursday, March 23, 2017 @6:36:45 AM
Sure! I could see that! TWO banjos!
You must sign into your myHangout account before you can post comments.