Posted by frailin on Friday, February 13, 2015
It took us a while (4 years) but once we got around to it, it went pretty fast.

Here's our newest CD - "Waterbound!"
Got some fine old-time square dance chestnuts on here as well as a classic Doc Watson ballad (sung by Keeper, of course). There's a fiddle number written by Rayna Gellert and another waltz by my late fiddler friend, Debbie Sorensen-Boeh.
While waxing nostalgic, we even included a 1960's New Christy Minstrels tribute ("I Was Born 100,000 Years Ago"). It's what turned me on to traditional music at the tender age of 8. My dad took me to hear 'em at Buena Vista College in Storm Lake, IA. 54 years later, that warm thought still gives me goose-bumps.

Sound clips of all tracks are here or here.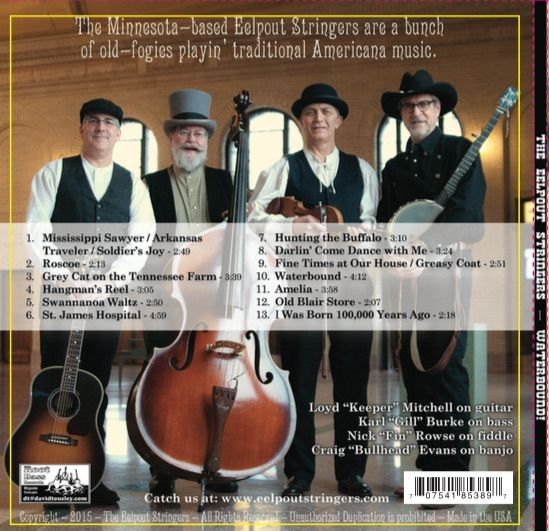 If you're interested, they're $15 (plus $2.50 S&H) at www.eelpoutstringers.com. Should have 'em back from the duplicator sometime late next week.
Thanks folks.
Craig
---
2 comments on "Introducing "Waterbound!" - The Eelpout Stringer's latest CD."

JanetB Says:
Sunday, July 23, 2017 @1:31:28 PM
Hi Craig. I see your CD images are gone, as are anything I posted through photobucket. My photobucket account wanted a ton of money to keep my account open so I could use photos images as you and I have done on BHO. I switched to cubeupload.com, gave them a voluntary donation, and hope this can continue. Photos are an important part of our communication efforts here.

frailin Says:
Sunday, July 23, 2017 @1:51:10 PM
Hi Janet. I have to admit, I'm really irritated with Photobucket. I also lost all the pictures I posted while filming the banjo builders and the old-time performer series. There's no way I can go back in and re-enter all those archived pictures. Like you, I'm not happy with Photobucket.
You must sign into your myHangout account before you can post comments.