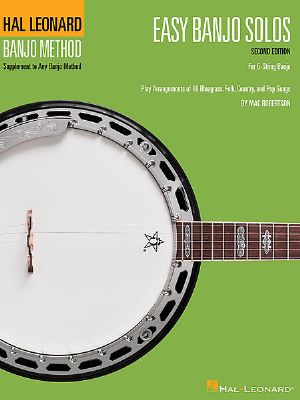 When I originally volunteered to review this book, I had mistakenly thought that it was book about improvising and creating solos "on-the-fly". However, once the book arrived I realized that this is a book of tabs for the 5-string banjo. The tabs are written for a beginner level player. The songbook is arranged in order of difficulty, as follows:
Jambalaya (On the Bayou)
Cornbread and Butter Beans
Your Love is Like a Flower
Big Sandy River
I'm So Lonesome I Could Cry
I Am a Man of Constant Sorrow
Abilene
Freight Train
Words Unspoken
Doug's Tune (My Grass is Blue)
Red Wing
Blackberry Blossom
Blue Moon of Kentucky
Salty Dog Blues
Foggy Mountain Breakdown
Temperence Reel
I jam a lot. I'd say that at least fifty percent of these songs are regularly played at Bluegrass jams here locally so I was pleased with the song selection in the book.
Lyrics are shown on the tabs - when applicable – which I always find useful. In addition, there are two versions of the songs – one with the melody notes only – and directly below, there is a more typical 'banjo-style' tab which includes all of the additional notes, slides, hammer-ons, etc. that you would typically play on the banjo. The instrumental tunes only have one tab.
The tabs are solid and easy to play. There are no up-the-neck breaks provided for any of the songs. These are simple breaks played down low on the neck. Quality audio recordings are provided for each song to play along with. The recordings are provided online and are available with the use of an access code (provided with the book). This is a great way to access the recordings quickly and I definitely preferred the online access instead of having to deal with a CD. You can either listen to the recordings online or download them. The recordings are very good and include multiple instruments, but they are provided at only one speed. I immediately downloaded all of the recordings to a flash drive where I keep all of my banjo music for easy access while practicing. Once I downloaded the recordings, I was able to slow them down to an appropriate speed while learning the songs (via the use of software not provided with the book).
---
Be the first to comment on "Review: Hal Leonard's "Easy Banjo Solos" (2nd edition) by Mac Robertson"
You must sign into your myHangout account before you can post comments.