Yup, it's a busy time, selling our large family home, moving to a smaller house, selling my mother's house at the same time. You would not believe what I've managed to squirrel away in the spare room, attic spaces, outbuildings and closets of our present house !!!
I've had to be ruthless.....throwing out my Pickin' magazines from 1974, Frets and Bluegrass Unlimited, (kept my BNLs) and instrument-related stuff like dobro cones, cheapo banjo necks and rims, almost-unrepairable fiddles, and duplicate tools. Finally got rid of nearly all my vinyl albums and singles. Ditched hundreds of cassettes.....and video tapes !
Still left with 4 fiddles, 3 banjos, a dobro, a strat, precision bass, 2 acoustic guitars, a mandolin, a lap steel, a Cajun accordion and all my recording equipment. Then there's the standard tool kits, fly-fishing paraphernalia, and CD collection ! Where's it all going to go ??
---
2 comments on "Moving house, can't believe the stuff I've hoarded !!!"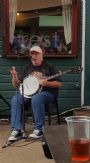 joemac Says:
Friday, July 18, 2014 @11:29:15 PM
I've got it....open a shop mate!!!

Banjo Bub Says:
Saturday, August 30, 2014 @10:09:29 AM
Going through the same thing myself. Having a hard time getting rid of my BNLs as I've kept them since 1969? Can't find a market for them and too many to ship anywhere so, the trash????
You must sign into your myHangout account before you can post comments.