The best Bluegrass Radio Station ever! http://www.wdvx.com/
Listen Live via Internet: http://www.wdvx.com/audiovideo/listen-live/
This radio station started life in a camper, and always had the "blue plate special" - live music during lunch every weekday. For the most part, they would have to drag the mic's outside the camper door and broadcast the band playing outside, because they could not fit into the camper. Read more: http://www.wdvx.com/about-us/history/
---
6 comments on "WDVX Radio Knoxville. Grassroots Bluegrass Radio. Listen Live via Internet."

banjoy Says:
Monday, October 14, 2013 @2:36:01 AM
Yep. The camper was located at the campground on Interstate 75 Exit 122, just north of Knoxville, and about 8 miles from my home when I lived up there. I played in that camper many times for their BluePlate Special. They're now located in downtown Knoxville, and share space with a little coffee shop, so folks can now listen while enjoying coffee and pastries. I've picked there too. I remember when Tony Lawson had this only as an idea and stuck with it, it's only because of his tenacity that the station came into being.

And, as I understand, that little radio station has been named the #1 bluegrass station in the country many years in a row. They're independent, beholden to no one and play whatever the heck they want whenever the heck they want to. It makes WNCW in Spindale, NC look like wimps these days.

Nice post recognizing a great little station.

Banjo23055 Says:
Monday, October 14, 2013 @5:56:33 AM
Thanks for the info - it is great!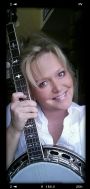 Sassybanjo Says:
Wednesday, April 1, 2015 @8:59:29 AM
I used to pull up behind the camper and listen to you all on Sat nights. Had my babies in the back of the truck. What special memories 💟💟💟💟💟 We'd always be excited to hear any guest you had on too. So nice to see you on here!!

Elmo_Smiley Says:
Wednesday, June 24, 2015 @12:28:39 PM
...hmmm ...Had your babies in the back of the truck... OH, you brought them WITH you. Nevermind. Lol! Not gonna say what I was thinkin'.

bubbalouie Says:
Friday, March 10, 2017 @6:24:38 PM
This our Go-To streaming station. We have a Sonos system so we are wired for sound anywhere around here. We listen to hippie Jack every weekend.
Can I suggest this satiation?
rockymountainradio.net/gravelroad2.html

Elmo_Smiley Says:
Monday, March 13, 2017 @5:41:32 AM
Rocky Mountain Radio - very nice too.
You must sign into your myHangout account before you can post comments.