Posted by Nooooorm! on Thursday, October 3, 2013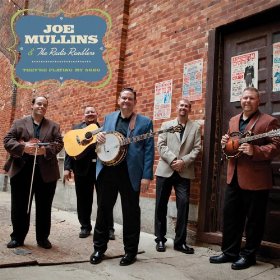 If you want to learn how to play solid bluegrass banjo, learn all the banjo parts on this CD. I especially liked Joe's break and backup on "Katy Daly", the CD's only live cut. He also manages to bring new life to an old standard, "Steel Guitar Rag".
This band has three good lead singers in Joe Mullins, Mike Terry and Adam McIntosh and all the guys are great instrumentalists. There are three songs written by each of the three lead singers, my favorite being "A Blue Million Tears" written by Joe. They also perform a pretty Osborne Brothers medley. My favorite songs overall are Dave Evans' "When the Snow Falls on My Foggy Mountain Home" and Alton Delmore's "She Left Me Standing on the Mountain". A very nice CD.
---
6 comments on "Album Review: Joe Mullins & The Radio Ramblers - They're Playing My Song"

Jonny5 Says:
Friday, October 4, 2013 @4:49:12 PM
Yes, Yes, Yes. Well stated. I have cassettes of 'The Traditional Grass' 25th anniversary album that Joe plays great on and 'Just a 5-string and a Fiddle' which is a must have if you like Joe's playing. Thanks for the review David.

Jonny5 Says:
Friday, October 4, 2013 @4:53:21 PM
Sorry, that should've said 10th anniversary.

Nooooorm! Says:
Friday, October 4, 2013 @7:30:22 PM
Yeah, i used to have one of the Traditional Grass' cassettes that i loved. Like most of my cassettes, it's disappeared. Thanks for your comment. It's my understanding Eric is going to include it in the March '14 newsletter.

woodnut Says:
Tuesday, October 8, 2013 @12:43:15 PM
Adam McIntosh is a great lead singer and really did fit the band well, but he has moved on and Dwayne Sparks is already making his mark in the band as a more than able replacement. All the best to them.

rferg Says:
Monday, October 14, 2013 @6:20:02 PM
They played at Turkey Track Bluegrass Festival in Waldron, AR this past weekend and were a big hit with all the pickers.

Nooooorm! Says:
Monday, October 14, 2013 @6:36:25 PM
i shoulda gone.
You must sign into your myHangout account before you can post comments.