Posted by Cathy Fink on Sunday, September 22, 2013
I've had a wonderful summer or music, music festivals, teaching and banjo and uke camps and meeting lots of the folks I hear from via Banjo Hangout and email, but don't personally know. American Banjo Camp was delightful this year and I loved doing a duet with Mac Benford. I also really enjoyed hanging with and playing music with Jason and Pharris Romero. Lovely folks, fabulous playing and harmony singing. We rocked an old time session at ABC!
I went directly to teach at the Port Townsend Ukulele Festival and had a great time with Aaron Keim and Jere Canote teaching clawhammer ukulele. The soprano, concert and tenor ukuleles often have a high g string that sounds/works a lot like a banjo 5th string and makes it a lovely instrument for clawhammer. I will soon be posting a few clawhammer uke videos.
Teaching news: Truefire has released my clawhammer courses as 8 week workshops.
8-Week Online Workshops deliver personalized instruction, assessment and feedback from top educators on a variety of key topics. All levels, all styles! Study online for eight weeks and then download all videos and workshop materials for future reference. Enroll anytime - start immediately!
Link here: http://truefire.com/workshops/directory.html
Stay in touch!!!!
Cathy
---
2 comments on "Banjo News from Cathy"

wallflower Says:
Sunday, September 22, 2013 @12:44:34 PM
Greatly enjoyed being in one of your classes at ABC. Hope to see you again at next year's camp. I also hope some of your talent will rub off on me. Thank you for being there and for sharing your instruction which I highly recommend.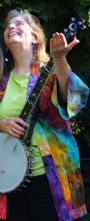 Cathy Fink Says:
Sunday, September 22, 2013 @1:13:49 PM
Loved it! Make sure ken and peter know you enjoyed my teaching. It's a lovely camp, just 1 step above camping!!!!
You must sign into your myHangout account before you can post comments.