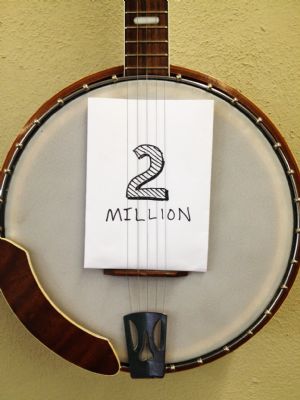 Sometime last night the 2 millionth post was written on the Banjo Hangout Forums. (You can see this and other stats at the bottom of the main forum page).
The forums were launched Jan 21, 2003, 3 years after the site launched (see my blog post announcing it). Members had been asking for a forum for a while, and I had been resisting the idea because I knew it would mean a lot of additional work in terms of moderating and site programming. In hindsight it was a brilliant suggestion by the many members who pushed for it.
Like most key features on the Banjo Hangout, it started as a member suggestion then blossomed from there.
Thanks so much to everyone who has been a part of the forum discussions these past 10+ years. Some of you have only posted a few times, and some of you have written several thousand posts. Over the years I've seen posts that made me laugh, while others have made me cry and some of made me downright angry. Through it all, though, I've learned much about the banjo, and the people who love this instrument. I wouldn't trade it for anything.
All of you are a part of this amazing community centered around the instrument we love, and it's my privilege to be a part of it all.
Currently the forum averages around 1,000 posts per day, so at that rate we'll hit 3 million posts within the next 3 years. Better get crackin!
(This photo features my old "Tempo" banjo--this is the banjo my wife gave me for Christmas of 1999, which led to the creation of the Banjo Hangout just a few weeks later. It now hangs on the "Hangout wall" at my office.)
---
15 comments on "2 Million Posts"
You must sign into your myHangout account before you can post comments.