Posted by schlange on Tuesday, April 23, 2013
Learn for Less!

This week's "Learn for Less" deal is a 2-volume set from Homespun by Bob Carlin. "Learn to Play Clawhammer Banjo" is one of the most popular lessons in the BHO catalog, so I thought getting a good deal on it would make some folks happy! Use coupon code "BANJHANG1" to get 40% off the regular price (so you get it for around $24 instead of $40!)
Full Description:
Grab your five-string banjo and get ready to frail! Bob Carlin builds technique from the ground up, covering all the chords, scales, tunings, right-hand essentials and other basics needed to get the real old-time sound.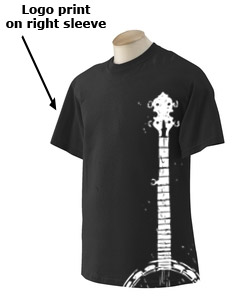 New Shirt!
I'm always working on cool new shirt ideas to keep us banjo players on the cutting edge of fashion.
I just posted a new shirt for sale--this is a concept I'd had in my head for a while, but I could never find good artwork for it. I finally did! The banjo artwork looks like a rough sketch, and it's printed off-center on the front of the shirt for a cool modern look. I call it the "Sketchy T."
I just ordered the shirts, so they'll ship out to buyers probably late next week.
Drawing Winner
Lastly, I drew the winner of last week's drawing for a $150 shopping spree at DrBanjo.com. The winner is Del Henninger of Temecula, CA. Congrats, Del! Enjoy whatever it is you decide to pick up!
Make sure you're on the news email list so you can get updates on stuff like this whenever I send them out (which is about every 2 weeks on average).
---
7 comments on "A few news items--Learn for Less deal, a new shirt, and a drawing winner!"

thebanjobert Says:
Tuesday, April 23, 2013 @3:55:04 PM
Outstanding!! Love the shirt, Eric! I'm gonna have to have one................

Nels Says:
Tuesday, April 23, 2013 @4:29:29 PM
Nice shirt...

Philipm Says:
Tuesday, April 23, 2013 @6:17:52 PM
A quote for a new shirt: "Drop thumbing while you're frailing. It's a banjo thing, you wouldn't understand."

Nels Says:
Wednesday, April 24, 2013 @3:32:34 AM
congrats to Del Henninger on winning the drawing.

Rbuhrman Says:
Thursday, April 25, 2013 @12:59:24 PM
nice tee........I'm gonna get me one
Hoss Says:
Wednesday, May 1, 2013 @8:10:57 AM
Cool design unless you happen to be a fat guy in which case the neck would look badly warped! Good incentive to lose weight though!

Butter1313 Says:
Friday, May 3, 2013 @1:30:09 PM
I just purchase mine love it will need one in red and green

You must sign into your myHangout account before you can post comments.