Hi yall,
i was wondering if anybody could tell me where i might get ahold of the roll pattern and fretting tableture for a 5 string banjo. i m havin a hard time finding it on youtube and other sites, all i can find is the guitar tabs, which arnt the least bit helpful. any help would be greatly appreciated!
---
3 comments on "wagon wheel tableture and roll pattern?"

Oalbrets Says:
Sunday, January 13, 2013 @7:38:44 PM
Just google banjo rolls and a million will come up. Have fun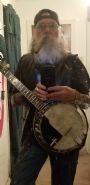 5stringpicker2 Says:
Sunday, January 13, 2013 @11:50:57 PM
Just a bit of info you don't use one roll as with any song you use bits,parts,snips,snorts and even at times complete roll patterns. as far as Banjo tabs I haven't been able to find any.

In our band our Banjo player uses what ever will work or feels right to get the melody for the song and so far what ever he is doing is working.

( I )====='----<::)

Texasbanjo Says:
Monday, January 14, 2013 @5:26:18 AM
You need to ask your questions in the appropriate forums, they get more reads than the blogs.

There is a handwritten tab for Wagon Wheel in the Tab Archives.

There are some roll patterns in the Tab archives under lessons.

If you can find a good banjo teacher, take lessons, you'll learn faster with fewer mistakes.

The best way to find banjo rolls is to get a good beginner book. It will have all the basic rolls in it. There are many excellent beginner books out there.

Check out Beginning Bluegrass Method Book #1 with CD by Jack Hatfield. Jack highlights the melody notes so you know where they are and then puts rolls around them and plays the song slowly so you can pick along and at tempo so you can hear how it sounds. He also has many other excellent books after that one. hatfieldmusic.com.

Janet Davis also has an excellent beginner book "You Can Teach Yourself Banjo" with CD or DVD. Janet also has many other books after that one. banjostore.com.


You must sign into your myHangout account before you can post comments.