I have had my banjo one month today. I've really enjoyed her, and believe it or not, I am starting to make some noises that sound kind of like music! Working through Dan Levenson's book has been great. I am starting to pick out songs now, and really love Angelina Baker. I'm getting a groove on that one! A very sl-o-o-o-o-w groove, but a groove none-the-less.
Thanks for the encouragement that I have received so far. And I've enjoyed lurking about and reading all the good advice, even when I haven't responded with a post! You guys are very smart and supportive....and have a WARPED sense of humor. I LIKE it. ;)
---
2 comments on "My One Month Anniversary"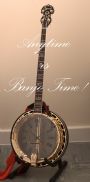 ragitty Says:
Thursday, June 14, 2007 @2:17:24 PM
Hi Sara, happy anniversary and may you have many more, nice to hear that you are making headway with your music, but we are all the same and had to start somewhere, and make lots of mistakes but that the best way, after all no-body's perfect :)

Sassafrassa Says:
Thursday, June 14, 2007 @3:56:50 PM
Thanks, ragitty!

I am having so much fun with this. My summer is kind of slow...I don't have any classes...so I am trying to get "addicted" while I have the time. Then, when I get busier, I will be less likely to put "my girl" aside.

I've been really surprised how quickly I've been able to pick out tunes. It's starting to make sense. ;-)
You must sign into your myHangout account before you can post comments.