Posted by hdplayer on Tuesday, January 24, 2012
I am delighted that I am finding and playing melody to a couple of tunes now! I'm mostly working on Cotton Eyed Joe, and so far, it's not too bad. Granted, it's a simplified version, but hey, I've only been "playing" for a month, so I'm OK with simple for now.
I'm learning entirely by ear from CDs, DVDs and/or YouTube. I can read music, but it doesn't seem to translate to banjo - or fiddle for that matter. And, tabs? Lordy... tabs make no sense to me. So, I'm getting good noise (I think) playing by ear, but I am a little concerned that I might be learning bad habits. That said, I'll head to several music camps this spring and summer, but it'll be then before I can get any intense, organized, in-person instruction. In the mean time, I'm having a wonderful time with this incredible instrument - I pick it up every day and usually end up spending a couple of hours or more in banjo bliss :))
---
3 comments on "(Beginner) Learning to play melody by ear"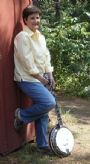 Banjosnob Says:
Wednesday, January 25, 2012 @2:26:25 AM
Yep, your hooked! Which style do you play?
I started with Murphy Henry, (bluegrass style and no tab) DVD's for 2 years. I think you will do well learning by ear and be able to play with people quicker. Are you jaming yet?
We have a jam group that meets in Charlotte twice a month on Sat. See link below:
meetup.com/charlottebluegrassjam/
There is an oldtime group that meet also with the Charlotte Folk Society:
folksociety.org/slowjam.shtml
I have never been the the later but thinking about going.
Have fun!

hdplayer Says:
Wednesday, January 25, 2012 @3:09:28 AM
Hey Banjosnob, and thanks! I'm playing CH style, and I am a long time member of the CFS. In fact, I took my banjo to the OT jam in Mint Hill last Saturday and was happy and surprised to discover that I could play dum-ditty chords with nearly every G and A tune they played. I also play a bit of fiddle, but right now the banjo has my heart! Thanks so much for the advice and encouragement to play "out". I will definitely be at the Charlotte gathering on Feb 10 for the concerts and jams afterward. You should go!

SidBarone Says:
Wednesday, January 25, 2012 @12:58:28 PM
i too am self taught & learn everything i hear by ear HD!.. but 1 bad habit i picked up unwittingly is, thumpin' the head with my thumb, now that i have a scoop, its not noticeable, until i go play over the head that is!.. :0)
You must sign into your myHangout account before you can post comments.