I'm now a proud owner of an All-American Eagle banjo, made by Johnnie Whisnant. Ralph Stanley played this banjo on tour in Japan over 40 years ago!
---
3 comments on "All-American Eagle"

hello123 Says:
Saturday, October 22, 2011 @10:35:27 AM
WOW that is so awsome! i didnt even know he played in Japan... Such a beutiful instrument!
-Abigail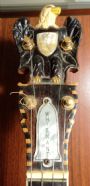 BigWhisnantFan Says:
Saturday, October 22, 2011 @7:39:38 PM
Hi, Abigail. I believe you can still order the CD online. It's called "Live in Japan" Ralph Stanley and the Clinch Mountain Boys. I think around 1971. Thanks for your kind words.
~Christopher~

wingram77090 Says:
Sunday, March 20, 2022 @7:52:49 AM
I am also a Johnnie fan. I took lessons from him when he was building his first Whisnant All American. Is your AA the one that is in Bluegrass Hall of Fame in Owensboro? I think it is sad that so many pioneers of Bluegrass (like Johnnie) have been forgotten. I remember going to Johnnie and June's house to take a lesson and then staying long after to listen to Johnnie's stories and have him play the guitar while I picked.
- Bill
You must sign into your myHangout account before you can post comments.