Posted by schlange on Friday, August 26, 2011
I'm working with FQMS to have a real-world "hangout" on Friday night, October 14th at the FQMS/Sullivan Banjo showroom in Louisville. If you're anywhere near there, you should come hang out! I'll be there, and I'd love to meet everyone.
More details, as well as a quick registration form, are here: http://banjohangout.eventbrite.com/
The event is free, of course, but we're asking folks to register if possible so we can get a head count.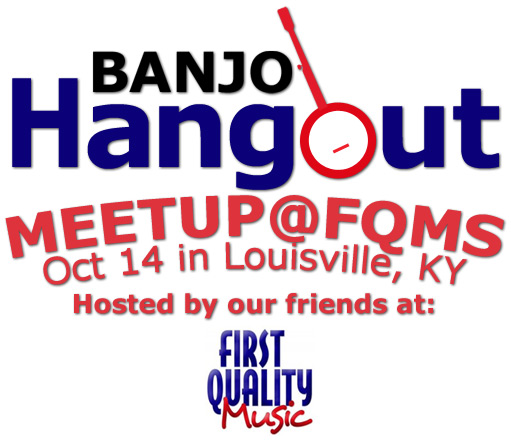 ---
8 comments on "Banjo Hangout Real-World Meetup at First Quality Music in Louisville, KY Oct 14"
Woolpersteve Says:
Friday, August 26, 2011 @12:11:56 PM
Great place to meet up. Jeff and Eric Sullivan are class acts.

erikforgod Says:
Friday, August 26, 2011 @12:38:44 PM
Eric...I would love to go and hang out! I have family in Louisville and also in near western Kentucky ( about an hour and a half away ) I would love to say hi.....you cant be half bad for a guy named Eric ;)

beetlegeist Says:
Friday, August 26, 2011 @1:10:20 PM
That would be a lovely thing to happen. It would be a great day. Fancy meeting so many members face to face. I bet a lot of good friendships would be made that day.

KANINJACK Says:
Friday, August 26, 2011 @8:05:54 PM
There's several places to camp for those wanting to make the treck. I'm looking forward to putting some faces with some avatars.

frailin Says:
Saturday, August 27, 2011 @2:17:58 PM
I LOVE this idear! So when is one planned for Minneapolis, St. Paul? Do you need musical acts? How about a "signup" once folks are there? What fun!!

DantheBanjoMan Says:
Monday, August 29, 2011 @2:35:37 AM
Great idea! How about one in Lansing at Elderly instruments?

schlange Says:
Monday, August 29, 2011 @8:58:04 AM
That would be fun. Having on a JDMC would be great, too. Maybe one of these days I'll organize another! We'll see how this one goes.

mpc101 Says:
Wednesday, September 7, 2011 @6:36:18 PM
Sounds fun to me, place is a class act
You must sign into your myHangout account before you can post comments.