We've just taken a new security feature live which allows you to quickly report PM messages to a moderator.
We already have a lot of stuff going on the background of the site to stop spammers, scammers, and other bad folks from participating in our community. This is a long-overdue addition to that arsenal. Mainly I see it being used to automatically lock out scammers when they start sending PMs to classified ad owners (more details on common classified scams available here).
It's fairly common (happens once every week or two) to see a member join, then send out 5-10 identical PMs to classified ad owners in an attempt to establish contact with them and eventually scam them by sending a check for more than the item is worth, with a request to send some of the extra back. This tool should help reduce the reach of these scammers significantly because if a reputable member reports a PM from a scammer, that scammer will be immediately locked out and the moderators alerted.
This tool can also be used to report rule-breaking PMs sent from one member to another. Just a reminder--the rules and guidelines, including "no personal attacks" apply to PMs as well as forum topics, blogs, etc.
Thanks for doing your part to keep our Hangout a safe and happy place!
---
13 comments on "Newest Spammer/Scammer Fighting Tool: "Report to Moderator" for PMs"

Karen Kruske Says:
Saturday, July 30, 2011 @6:18:31 AM
Thanks for the upgrade to help keep the HO an enjoyable experience. I'm sure it's a never-ending endeavor!

TonyS Says:
Sunday, July 31, 2011 @7:12:59 AM
Good Luck Eric!

john bange Says:
Monday, December 3, 2012 @8:15:13 AM
I just had a guy want to pay with paypal, didn't care about the price, and would arrange to pick it up later...kinda broken English and not a BHO member. don't know for sure but sounded phoney. I think in the future, I will only sell to BHO members

Gus Bloch Says:
Wednesday, December 5, 2012 @6:21:07 AM
I just got an purchase inquiry from someone wanting to pay with a check. I did a members search and found the member's profile locked. Hmmmm.
My response was to remind that checks must clear fully before shipping, (possibly a week long or more process) and I recommended Paypal for faster service. Haven't heard back yet.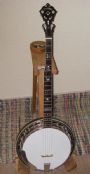 Patanio Says:
Tuesday, December 18, 2012 @7:21:40 AM
This one from Bart Collins Just got it today.

Hi
Thanks for the prompt response...I am OK with the price and i will love to make an instant purchase,so please do withdraw the advert from the site.I don't mind adding an extra $20 dollars for you to take the advert down from the site so that i can be rest assured that am in hand of the banjo..


I will also like you to know that i will be paying via check or money order, which will include the payment for the banjo the shipping fee,and it will be an over night payment due to the distance .You don't need to bother your self with the shipment OK,I will take care of that.So I will need you to provide me with the following information to facilitate the mailing of the check.


1.Your full name.
2.Your address,be it residential
3....Your phone number.


**Once again ,I will like you to know that you will not be responsible for shipping.
I will have my mover come over as soon as you have cashed the check**


Do Have a nice day,
My Best Regard....


schlange Says:
Tuesday, December 18, 2012 @9:26:28 AM
Patanio--if you get a potential scammer email, you should report it using the links in the email (if it was sent through the Hangout) or you can forward it to me (eric@banjohangout.org).

laguna21dc Says:
Friday, May 3, 2013 @12:41:30 PM
these scammers are getting better and sometimes it is just a gut feeling I get.What is it that they need your phone number and address?

bulldog bob Says:
Friday, March 13, 2015 @6:15:45 AM
Just saw a epiphany recording B listed in the classifieds for 1800.00 by Jim Dean, the same banjo pics were put up on the banjo buyer site under 2 other names. Scam

plunka5 Says:
Friday, May 6, 2016 @3:53:43 PM
Hi Eric! no cause for alarm now but I've been contacted by someone through my personal email listed in the ad that I have in the classified section. This person said he is going to send a check to me...this was on Friday the 5th...Cino-de-Mayo, no less! :) He also included a statement that I thought was odd....saying that he "would include the amount extra for the agent fees"? His name is R@ndall P!nkett, just in case any of the members have received any similar emails! Thanks, and who knows, he may be legit...time will tell? I did not offer any "vital" info, account numbers, passwords, etc. :)

schlange Says:
Friday, May 6, 2016 @4:06:57 PM
I would advise you never to list your personal email in your classified ads. Make them contact you through the BHO PM system... that way you can easily report scammers and we can lock them out. If you list your email you open yourself up to any scammer who sees your ad, and we have no way of stopping them!

robtincher Says:
Friday, July 15, 2016 @3:51:08 PM
Hello all, I just posted a Goya Banjo on the BanjoBuyer.com website. I was contacted very quickly from a guy in New Zealand, wanting to buy the banjo for full asking price, via PayPal. I was thankful. I got an email stating that he had contacted a freighting service and it was going to cost him $410 to ship it. I should say first that he claimed to be working at sea on an oil platform and was buying the banjo for his father for his birthday. Anyway, he said the freighting company a money gram for the shipping but he was unable to do so from sea. Red flag #1. He wanted to wire me the total amount for the banjo, plus the shipping cost to my paypal, and let me help him with the Money Gram. Red flag #2. Then I asked for the freighters info, so I could contact them about the transaction, I could hear the crickets chirping. I emailed him once again and told him that if he was truly interested in the banjo, I would post it on ebay, and he could buy it from me there, that way we were both protected. Again ... chirping. Third and final Red flag. The guys name was Kevin R. McDonald. Total jerk and SCAMMER! Sellers beware!!!!!
If he's a member here, he needs to be removed immediately. I did a member search, and couldn't find him. red flag #5


Ks_5-picker Says:
Saturday, May 13, 2017 @6:13:11 AM
Spam in the classified section
You must sign into your myHangout account before you can post comments.