Hi all my Hangout friends. I just wanted to say hi and touch base. I`m trying my best to not lose sight of the real me, but I would be lying if I said it was`nt hard. The real me is a fun loveing, loyal, serious MUSICIAN. Playing music lately has been difficult at best, but as I work through all this stuff I know it will return with a vengence. Last weekend we played a show but I`m so out of practice and my mind is wondering so much I hired a banjo player to sit in. I`ve also started to make some changes to the band hopefully it can take us to the next level. I`m going to switch to playing guitar and have this banjo player come aboard. I`m by no means giving up on banjo, but have found it more and more difficult to play the kind of banjo I want to pull off while being the lead vocalist. I can do a good job but not to the level it should be.
Beyond that I`m trying to move on from my relationship disaster but there are so many emotions and attachments involved to work out yet. It`s been hard to believe that someone I trusted and thought I`d be with forever met some dude she doesn`t have a clue about in Mexico, and struck up a relationship behind my back. Thankfully I caught on and found out, she tried to deny but... Now I think she`s planning a future with a stranger in another country, it boggles my mind. In the end I can`t see how it can possibly work. Doing my best not to drive down to Freeborn MN/ Sioux Falls SD to chat with this fellow. lol apparently he`s gonna make her the happiest women in the world, what a joke!
Anyway I`m still alive and making some progress, and will be back stronger than ever,just a little bit further down the road. Keep on pickin` my banjo friends. GEE THAT WAS MORE THAN A QUICK HELLO WAS~NT IT.
---
10 comments on "A quick hello"

Banjov1 Says:
Thursday, March 3, 2011 @8:52:54 AM
Hey Pepper... glad to hear your getting through this. Definitely resist all urges to make any trips to chat with the "other guy" and try to move on. Try to keep concentrating on music and anything but her. It's difficult now, but it will get easier with time.

btw I've found it really helpful to have other banjo players in the band. Especially if you're doing lots of singing. It opens up all sorts of opportunities including harmony banjo parts which can be awesome. Hope that works out for you.

T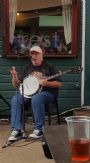 joemac Says:
Thursday, March 3, 2011 @10:36:10 AM
You know what Pepper, you aint going to believe this, but you'll end up a stronger and happier guy, i know Pepper. Dont look for much in the first eighteen months, but then things start swinging back, hang in there!!!!

christy65 Says:
Thursday, March 3, 2011 @12:29:00 PM
no point going to mexico to see this fellow ending up with a busted hand
you wont be able to play guitar either hang in there pepper like joe said
it takes a bigger man to let go good luck pepper

BryanWB Says:
Thursday, March 3, 2011 @1:06:58 PM
Thoughts are with you for your future Pepper. My best wishes. Bryan.

Pablo9364 Says:
Thursday, March 3, 2011 @4:10:54 PM
hang in there

alfiedog Says:
Thursday, March 3, 2011 @4:37:15 PM
Pepper so sorry to hear about your Lady, but i woudnt go down to Mexico. I know its hard to comment on other Peoples Relationship problems, but if She has done that to you Man ? Get out there and Play some Tunes, you will find a Soul Mate. Stay Strong.

dgill Says:
Saturday, March 5, 2011 @5:29:16 AM
Glad to see your doing OK Pepper. Hey it is easy said, but I have been told we have to learn to let go. Not just in this case but in many situations in life. Hell with Mexico, just come down to Southern Indiana and we will facilitate some Hoosier prescribed healing for ya.

Pepper Laing Says:
Saturday, March 5, 2011 @8:44:07 AM
Thanks again everyone, it`s tough dealing with all this but I`m getting thru. By the way seems everyone is thinking the dudes in Mexico, nope in Minnesota,they randomly met in Mexico, but that`s here nor there I`m not that stupid to travel there and get myself in trouble. Just trying to move on. Keep on pickin` friends. southern Indianna sounds good Donnie, some day I`ll make it happen.

majorhoople Says:
Sunday, March 6, 2011 @6:19:10 AM
Dude, hang in there. Please remember that you are not responsible for anyone else's behavior. Just take good care of you!

billy vance Says:
Wednesday, March 9, 2011 @3:41:16 PM
Have been there, its not fun. Try not to let it consume you, you,ll wake up one morning and it wont hurt anymore.Bill Keith told me he could,nt play banjo and sing at the same time.I have heard him play, never heard him sing.Go buy something just for you,you,ll feel better.
You must sign into your myHangout account before you can post comments.