Hello, friends. After almost three years of full time school and part-time work, I have finally picked up my banjo again--unfortunately it means starting from scratch for the most part, but I'm excited about starting to play again. I haven't updated my blog in such a long time it was embarassing! I am working two jobs, and I find it quite difficult to work in my banjo practice, but I've put my Goodtime downstairs right where I can see it every day to help motivate me to play. I'm doing some adjustments to my banjo--new Reneissance head, new bridge, no-knot tailpiece--that should motivate me even further!
Looks like the BHO gang is as helpful as always, and I hope to reconnect as I get back on the banjo road.
---
4 comments on "Getting back in the saddle"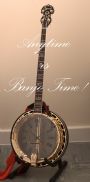 ragitty Says:
Wednesday, May 19, 2010 @1:59:52 AM
Welcome back enjoy your banjo whenever you can :) regards Lee

Sassafrassa Says:
Wednesday, May 19, 2010 @4:45:44 AM
Thank you, Ragitty! I'm trying to sneak in playtime whenever possible. I appreciate the warm welcome!
GreasyCreek Says:
Friday, May 21, 2010 @3:09:10 PM
Hi Sara,
cool photoshop work...are you going up to the Mt Airy festival? I'm also relatively new to banjo but have been going full tilt these last few years...am looking forward to feeling more a part of the festival scene this summer.
best wishes,
Richard

Sassafrassa Says:
Friday, May 21, 2010 @6:22:46 PM
Wish I could go this year, but my work schedule has been nutty!! I'm playing all I can, though, and would love to find some folks to play with. I'm just so shy about playing in public...how do you handle performance anxiety in a festival situation? So far, I've just been hanging around the fringes...

Have fun at Mt. Airy!! I went a couple of years ago and had a blast just listening to all the great music. It really is quite inspiring! Maybe we'll run into each other one day...
Sara
You must sign into your myHangout account before you can post comments.