Posted by phill on Tuesday, April 6, 2010
Hey hats off to Shelia & Ray, once again despite the weather and lack of the regular bar staff, they pulled of a great weekend of pure entertainment.
I and mate Ken turned up on the Saturday and there was a handful of pickers pickin (as you do). Nice to bump into some familar faces and some new ones.
I spent some time pickin with Paul Pines who is now doing some nice stuff. Paul brought along his son Rob who has just got interested in mandolin which is not a bad thing! We sat and picked and chatted and drunk coffee. I played Paul's banjo which the name has left me but I will find out the name, a wonderful sounding banjo, there are so many good makers out there now, if only I could win that lottery!
The evening concert was great with lots of good bands playing. The concert finished off with Monroes Revenge, my how this band has come along over many years, love their material and Joe's high pitched voice sounds so cute!
All in all it was great and now looking forward to The Orwell Bluegrass Festival just down the road for me!!
Sorry Joe Mac I missed you on the Friday but looking forward seeing you at my festival Steeple Morden in late June.
---
1 comment on "The Bluegrass Plus Surrey"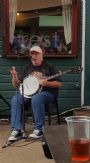 joemac Says:
Tuesday, April 6, 2010 @6:36:28 AM
Hey Phill, no probs man. I think you will find Pauls banjo is a Ronnie Bales Banjo.as for Steeple Morden, i cant wait either buddy...see ya there, Joe
You must sign into your myHangout account before you can post comments.