Posted by GrassFire on Sunday, February 7, 2010
So I had my first "formal" lesson the other day. Matt came to the house with his beautiful Deering. I've never had a music lesson in my life, at least one that I was paying for…(I did take piano when I was a kid, and of course, elementary school band) so I was a wee bit nervous.
I shouldn't have been. Matt is the same age as my own son, Tyler, and put me at ease. Since neither of us knew what to expect of each other, it was pretty low key. We tuned up, sat in the office and started feeling each other out. I showed him the rolls that I have learned on my own, and a couple of songs. I was a little shocked when he smiled and told me that he was surprised that I was as "good" as I was. He said that my timing, hand position, and picking action were great. Hmmmm.
We spent a good half hour, with him showing me a few tricks, writing down some tabs, and telling me what to expect. I've got a couple of levels of "Boil Them Cabbage Down" in front of me. Next week we'll spend more time on the good stuff….ha.
I can't begin to tell you how much fun it is to be learning something new, especially at my age. My girls no longer cover their ears and run screaming from the room. Natalie is even learning harmonica so she can play with me
. It's going to be a long road, but I'm really loving this chapter of life. I can't wait until the day comes that I actually know what I'm talking about, and doing, and show off a little. One day, my friends....one day.
---
5 comments on "That first lesson"

Jane C Says:
Monday, February 8, 2010 @3:10:24 PM
Isn't it great? Happy picking.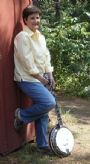 Banjosnob Says:
Tuesday, February 9, 2010 @6:51:44 AM
I played 2 songs at a staff mtg. (bunch of nurses) yesterday. It wasn't clean but the faces of all that were there were loving it. It was nerve-racking but when I was done, I got a thrill. I won't be so nervous next time.
You are going to love this next chapter in your life!! Happy pickin!

Jonno B Says:
Tuesday, February 9, 2010 @7:50:22 AM
I had my first banjo lesson last thursday. I travelled a reasonable distance but loved every minute of the time spent. I now have a focus point and someone determined to make me better. I eagerly look forward to my next lesson. Good luck with your tutor and many happy pickin' days.

hitchcock Says:
Tuesday, February 9, 2010 @2:44:03 PM
Good job. Your teacher sounds great. I have a teacher and we usually spend 4 or 5 hours together on Wednesday evenings. I look forward to it every week. He was surprised that someone my age was doing so well (47) but I don't feel a day over 46. I had a friend come by the office the other day with his banjo and asked me to tune it. Afterwards, I played my 5 or 6 songs that I know reasonably well and everyone was shocked that I played as well as I did. Keep it up.

GrassFire Says:
Monday, February 15, 2010 @9:37:00 PM
@hitchcock - yeah - he's pretty good...for a young 'un :) (he's also a participant here, so I have to be careful) I'm not sure I could handle 4-5 hours a week...whew!

I like the lessons - they make me think, and I feel like I'm back in school with homework!
You must sign into your myHangout account before you can post comments.