Posted by ZEPP on Thursday, March 26, 2009
since I posted here. Oh, well, I have been rather busy.
Benjamin is fine. In fact, he's great. He runs around constantly, requires 100% of my time, and is a great kid. So, I turn to a different subject:
Having been the
Healthiest Man on Earth
for 63 years, I thought I'd comment on my rather disastrous last medico/fiscal year.
In June of 2008, I had sextuple bypass surgery. I had had absolutely no symptoms, but my little black heart was pretty well plugged up. I recovered quickly and without incident. Two weeks after surgery, my only sibling--an elder brother--was killed in the crash of his ultra-light on his 69th birthday.
In our last conversation, he had made me agree to get my carotid arteries checked, as he had had a TIA and required several stents on one side. He also had blockages on the other side, and had planned to have them stented or removed, but was killed before he could have anything done. We had agreed that there might just be some genetic "thing" going on, so I agreed to have mine checked, if he would have his heart checked.
Sadly, we never found out about his heart, but I did turn up with one carotid blockage of ca. 90%. As I was told I was in the 20% risk-of-stroke category, I opted for a carotid endarterectomy, which I had last week. Sorta cool, as I was awake while they sliced the artery open and chiseled out the goo... Too bad I couldn't see.
So now I'm healing (again) and contemplating the fact that with all my known blockages cleared out I should be good for a few more years. Or at least until I am struck by lightning or hit by a bus.
I am officially tired of doctors' offices, labs, blood work, tests, surgery, scans, medicines, more tests, hospitals, and copays.
But I still have Benjamin and a wife who truly loves me, so life is good.
---
12 comments on "Wow. Almost a year..."

gkuchan Says:
Thursday, March 26, 2009 @9:00:47 PM
As my grandfather always said, "Getting old sucks, but it sure as hell beats the alternative." Life is the only journey that really has little to do with the final destination, enjoy. Glad you're still with us.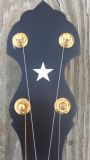 RWJonesy Says:
Thursday, March 26, 2009 @10:25:21 PM
*** I am blessed and glad that you are still here enjoying life.....you have so much to live for my friend.

Mark Ralston Says:
Friday, March 27, 2009 @7:25:59 AM
Don - you, of all people, should know better than to tempt fate by talking about being struck by lightning ;) Glad you're healthy. I'm in my 8th week as a non-smoker, and starting to think that I might make it ! !
I think that I'm going to have a helper at my booth @ Clifftop this year, so I'm looking forward to finally meeting you.
FretlessinTexas Says:
Friday, March 27, 2009 @8:11:13 AM
Life is good, and you have a great attitude. Sorry about your brother. I lost mine a few years back. He was probably my best friend. You know, getting hit by a bus or lightning is probably not so bad. I mean, there are worse ways to go. LOL. Best of luck to you and keep playing them banjers.

rinemb Says:
Friday, March 27, 2009 @10:45:27 AM
I would say you are a fortunate man, but our journey is never want of sorry and pain. Brad

RedDogGuitars Says:
Monday, March 30, 2009 @10:29:58 AM
Inspiring post!.....Lots of wisdom in there for us younger guys to pickup.,.Thanks, John

slabounty Says:
Tuesday, March 31, 2009 @4:05:13 PM
As Joe Ely says "I count my blessings, I don't count my faults". Sounds like you're doing the same.

rubicon Says:
Tuesday, April 7, 2009 @8:46:04 AM
Glad you are well I am new to the BHO want you to know that I enjoy watching your videos they are a great inspiration!! Wish you the best

inniepie Says:
Friday, April 10, 2009 @7:39:02 AM
Wow - you have had more than your share lately - I had no idea. As my parents both had heart disease early on, it's my big fear for myself. I admire you for checking into it and facing it head on.

MeInNh Says:
Thursday, April 23, 2009 @2:54:03 AM
Sorry bout your loss but glad you found about your heart before it was to late.
Sal

Big Dan Says:
Thursday, April 23, 2009 @9:52:23 PM
I'm also a big fan of your videos and your great playing. Sorry about your elder brother. My thoughts are with you, but glad you're on the mend. Best regards from New Zealand. Dan.

psychobillybanjopicker Says:
Friday, September 25, 2009 @11:30:43 AM
Been there done that only mine was enough to allow me not to work anymore and Disability Suxx. Sorry bout your brother but as you know life does continually moves in a forward direction. Live 2 Pick-N-Pick 2 Live.
You must sign into your myHangout account before you can post comments.