Hi Folks,
As I mentioned in my previous entry I was lucky enough to get the opportunity to play with the Down County Boys at last months Bulkington Bluegrass night, after the regular Banjo Player was unable to make it. Unfortunately the regular banjo player has since made the decision to leave the band due to new commitments.
I was honoured to recieve the offer of his job in the band; of course I jumped at the chance, opportunities like this don't come along very often (or even every ten years). I think maybe I'm in a little over my head at this stage, but the experience is invaluable and I'm sure I'll soon be holding my own.
Last night once again I went along to Bulkington but this time as a fully fledged member of the Down County Boys (very proud). Over the last month I have worked very hard on my backup and wow it seemed to show, however somewhere during the proccess I seem to have neglected my lead playing and that showed a little too(ooops). But I suppose with no band rehearsals yet, that is to be expected.,
So there were +'s and -'s as far as my playing is concerned I was encouraged by the advancements in my Backup but dissapointed by the mistakes I made with my lead, I think maybe a more balanced, scheduled, practice regime is called for?
There were added bonuses from the night in the form of a guest appearanced from JoeMac who is also a member here on the hangout, so be sure to head over and check out his page, I learned alot from Joe, who played the majority of the second set with us and I was very gratefull to him because most of the material in the second set I was unfamiliar with and I don't yet have the experience to work things out well enough on the fly.
So thank you very much to Joe. There is a video of the night so as soon as I transpose it to the correct format i'll post it up.
---
4 comments on "New Down County Boy"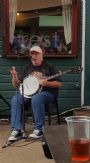 joemac Says:
Wednesday, February 11, 2009 @4:27:30 AM
Chris, it was a great night, your playing very well mate, good luck with the job and keep an eye on the older members, they aint what they used to be mate!!!!!!!!!!

dbrooks Says:
Wednesday, February 11, 2009 @6:49:26 AM
Congratulations on the new opportunity. It sounds like you have a great attitude and willingness to get the most out of it.

TopCat Says:
Wednesday, February 11, 2009 @12:53:25 PM
I think you MUST be overdue for that "purty good" level. Congrats on the new gig.

dgill Says:
Wednesday, February 11, 2009 @4:51:15 PM
Congrats friend. Glad to hear of your good fortune. I agree, the playing must be progressing very well to land such an opportunity. Good luck to you and pic your attitude. Get it?????
You must sign into your myHangout account before you can post comments.