Sunday, September 7, 2014 @4:47:54 PM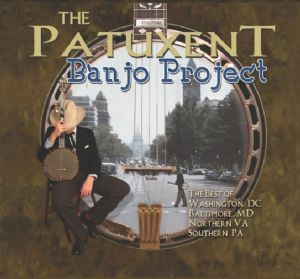 "The Patuxent Banjo Project" is a two disc set that brings together 40 of the best banjo players from Baltimore, MD, Washington D.C., Northern Virginia, and Southern Pennsylvania--many of whom have influenced each other throughout the years. The Baltimore-Washington Metropolitan area has long been a hub of Bluegrass Music. The CD brings together both well known stars and relatively obscure banjo players, and contains the work of three generations. The project covers original compositions like Casey Henry's "Purple Creek" and old standards like "Cripple Creek." The album comes with extensive linear and album notes. A three page introduction is included on the inside cover of the album. The set also includes a 40 page booklet which offers a short bio on each picker.
As for the album itself it features Bluegrass legends (and Country Gentlemen Alumni) like Bill Emerson and Eddie Adcock. With legends like this participating in the album how could it be anything else but spectacular?
The album covers the entire gamut for the banjo enthusiast. Nearly every style is represented from hard-driving traditional picking to chromatic to clawhammer and two-fingered style and other old-time styles. Russ Carson even provides a little bit of old-time fretless minstrel banjo on his contribution to the album entitled, "My Old Home in Baltimore" which, fittingly, is the last track on the album. The diversity of styles alone that are represented on this monumental album make it a must have for every student of the banjo.
What better way to begin the album than with 2013 IBMA banjo player of the year Mike Mumford playing the lightening fast "Hot Burrito Breakdown." If Mike's lightening fast chromatic licks on "Hot Burrito Breakdown" "don't make your hair stand up, you're bound to be bald headed" as the late, great Don Reno was fond of saying.
Paul Brown, a morning news anchor for NPR, provides a spirited version of "Cumberland Gap" in the Old-Time style.
Randy Barrett (D.C. Bluegrass Union founder) plays a heartfelt rendition of the Don Stover tune, "Things in Life." Randy's masterful playing is accented by Mark Schatz's fantastic bass solo.
There is more good music than can be praised in this short review. The album is old-timey enough to be cute, just newgrass/progressive enough to impress the most discerning of ears, and just "folkie" enough to not turn me off. Truly this is an album with "something for everybody."
As for the recording itself the accompaniment on each track is tasteful and adds to the overall pleasure of the listening experience. The track selection and sequence works well for me and the mixing and the mastering is spot on.
In short, this is a fantastic album—buy it!
To think that this is but a sample of only some of the best banjo players in the area leaves me wanting more. Perhaps if we are lucky we will be getting another two disc set in the future. For now this album is more than enough to satisfy.
Recent Forum Posts
Good Deal or Bad Deal (13 days ago)
ARCH TOP TONE RINGS. (21 days ago)
"Mountain banjo" oriigins? (23 days ago)
Travel Banjo for Extremely Hot and Humid Living Conditions? (28 days ago)
Tone ring vs. brass hoop, RB-11? (32 days ago)
RIP Becky Stump (33 days ago)
1880s Fretless 6-string - Now $395 (34 days ago)
Hide heads (38 days ago)
Banjo Hut? (38 days ago)
What adjustments can I make to get a brighter tone? (39 days ago)
Most sought after Gibsons banjos (42 days ago)
Gibson RB 250 or Deering Golden Era (both are used) (46 days ago)
Even more extreme European Recording King bargains (48 days ago)
Parlor Banjos (53 days ago)
One of my favorite banjo players is now building banjos (54 days ago)
Find all non-archived posts by revellfa
Groups
It's UkuleleTyme
Vintage Goldstar banjo Owners Lovers
Gourd Banjo Owners and Builders
Maryland Pickers
Playing By Ear
Two Finger Pickers
Hide Heads
Pick what you made
View All of revellfa's Groups

Friends
revellfa has 161 friends. View entire friends list.

Reviews
Truss Rod Cover Tim Davis
Necks Ken Spiers
Gibson Kalamazoo K-RB
Nechville Vintage
Andy Boarman Dixie Grand
Aria Pre-Pro II, likely late 1960s
Gold Star GF-100FE
Deering Goodtime II
Recorders Zoom H2
Vega SR II Earl Scruggs Model
Vega Vega by the Galaxy Corporation No Ser. #
Other standard

Music (44 files)
Newest Photos