View frailin's Homepage

Read frailin's Bio

Contact frailin
You must sign into your myHangout account in order to contact frailin.
www.frailin.com
Playing Since: 1968

Experience Level: Purty Good

frailin has made 38 recent additions to Banjo Hangout



Interests:
[Teaching] [Jamming] [Socializing] [Helping]

Occupation: Web publisher (Autism Hangout dotcom), writer, teacher and now, documentarian! Yee-ha!

Gender: Male

Age: 60

My Instruments:
Right now I play 2 Chuck Lee Marble Falls, both with Bill Rickard tubaphone tone rings. I love sampling other banjos, but have settled on Chuck's for their consistent performance (legendary neck sensitivity) and sound.

I play "Old Time Gospel and Bluegrass" with a MPLS-based group called Singleton Street. We've recorded two CDs: "Wingin' It", our Gospel music and "Almost Live" our first CD.

My old-timey group is the Eelpout Stringers. These guys are great fun! Check out some of our music on my MP3 page. Other cuts also found at: www.eelpoutstringers.com

Favorite Bands/Musicians:


Got LOTs of influences. From Unca Dave Macon and Stringbean right up to several of today's performers (i.e. Dwight Diller, Mac Benford, Mark Schatz and Joe Newberry). My favorite of all time though, is "Old Wide Load"... Tommy Thompson of the Red Clay Ramblers. And someone here on the hangout that's incredible is frailblazer (Ric Hollander).



Classified Rating: +3
Rate this Member

Profile Info:
Visible to: Public
Created 10/26/2005
Last Visit 5/22/2013

Sunday, January 16, 2011 @6:09:32 PM





Hey everybody, after much to-doin', I'm delighted to tell you all about the Eelpout's latest and greatest adventure into deep waters (the recording studio)!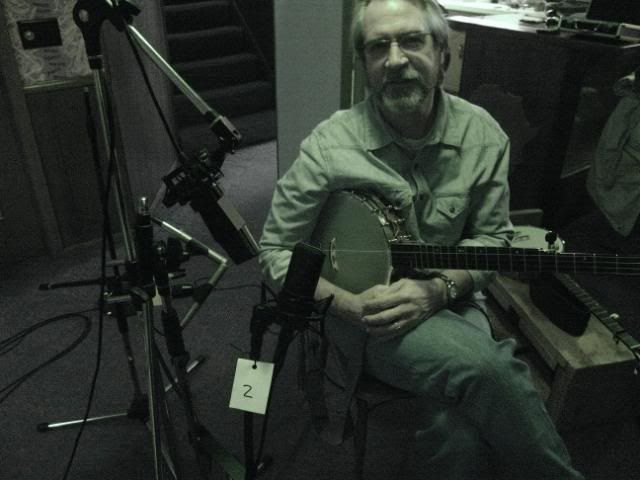 Yay! We did it! We really really did it! We laid down 21 complete tracks of old-timey delight... well, not really, I guess. Twenty numbers were in the fine old-time tradition, but Gill, he had this folky-Irish thing he really wanted to do so we all said "ok", and did it with him. Lookin' back, we're all purdy glad we did. His heartfelt rendition of Hobos in the Roundhouse made us all look much more versatile than we really are (Keeper even played harmonica!). So we kept it in. :)
Yep. Since 2004, we been havin' so much fun playin' this old-timey music live for folks here in the midwest we decided to cast our line outside the old fish bowl to see if folks elsewhere would care to nibble on our sushi. But that meant knucklin' down and gettin' serious about how we play these tasteful, timeless tidbits. After all, whatever we put down on a CD had GOT to be good! Even by old-timey standards. Fer instance, Fin, once he gets a-fiddlin' on a tune, he forgets about time AND space. He might wake up oh, 20 minutes later with a big 'ole grin on his face and wonder what happened.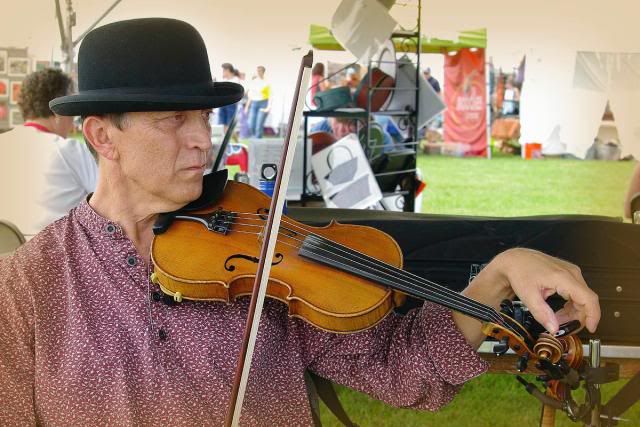 He'd been havin' a ball! Now that's ok for a square dance, but audiences kinda wear out after the first 5 or so passes. So we had that to iron out straight away.
Then there's the singin' part. Mostly we just let Keeper croon because he's not only good lookin' he's got that smooth, nasally bluegrass twang, if you know what I mean. And that high lonesome sound really makes the hair stand up on the back of your neck... in a good way. So we had to put together some better harmonies rather than the pirate chorus we usually sing since they sound purdy good after 3-4 beers. And there was to be NO drinking in the studio! Wow. This was gonna be REAL serious!
So it took us, oh, about about 20+ hours of singin' in the can to get it all down. Everybody brought their "A" game... plus, the no beer rule kinda' cut down on any reason to hang around. Nobody served food, either. DANG! So serious!




Next, our master techo-guru David Tousley took over and cleaned up our fishy act. He might look familiar to ya. David's the bass player for Valerie Smith and Liberty Pike. Man, he made us sound WAAAY better'n we ever do live. But don't tell no one, ok? Oh, if you ever see him playin' with Valerie, walk up and introduce yourself. Then tell him 'thanks' for saving the Eelpouts sorry tails. He'll know your joshin'. He's like Keeper. He cyphers stuff out that way real fast.
Ok. Now for the REEELY good stuff. If you want to sample the "Rockin' the Boat" music, it's posted at www.eelpoutstringers.com on the "Songs and Tunas" page.
Here's the back of the CD insert with the boatload 'o tunes!
If you like what you hear, you can land a copy of the Rockin' the Boat CD right then and there via Paypal! It's only one click away. I know it works cause a few folks have already placed orders (thanks mom and uncle Jack).
So I'm headed down to the duplicator this Wednesday to pick up our first o-fish-all album shipment on Wednesday. Can't wait! Any order we get prior will be guaranteed shipped the very next day (Thursday, January 21st)!


Cover art by the lovely Ms. DeAnne (my incredibly significant other).

Thanks folks. If you do buy this CD, you humble us. We really are seriously delighted to pass along the joy we find in traditional Americana music. Thank you for helping us spread its history and happiness-influence even farther.
And thank you for supporting the arts!!
Truly yours truly
Bullhead (that's frailin to you BHO folks)
PS - Now don't forget... for a complete listing of all the tunes on "Rockin' the Boat" (sound samples, too), head on over to www.eelpoutstringers.com and click on "Songs and Tunas." Then sit back, relax and enjoy the wonderful sounds of that great old-timey music. :)
Recent Forum Posts
Old time legendary players you have met? (22 hours, 32 minutes ago)
Old Time Jams in Minnesota (3 days ago)
Happy BD Taj Mahal!! (5 days ago)
New movie featuring 5 string banjo! The History of Future Folk (10 days ago)
I saw FRAILIN in the Eagan, MN Newspaper (14 days ago)
Find all non-archived posts by frailin
Groups
BOWLIN 1865 BANJO CLUB
Minnesota Banjo Pickers

Friends
frailin has 4552 friends. View entire friends list.

jojo25 replied to topic 'open C ?' 5/22/2013 8:46:49 AM

figmo59 replied to topic 'Cookin' in the rain, just a cookin' in the rain....' 5/22/2013 8:44:15 AM

Sam 2 replied to topic 'Man, a lot of you are grouchy...' 5/22/2013 8:38:38 AM

eagleisland replied to topic 'I think this says a lot about friends,,,,,,,,,,,' 5/22/2013 8:35:45 AM

Mopick replied to topic 'Cookin' in the rain, just a cookin' in the rain....' 5/22/2013 8:35:20 AM

beegee replied to topic 'Pyle Pro PBJ60 Resonator Banjo' 5/22/2013 8:34:33 AM

banjo bill-e replied to topic 'Original music stolen' 5/22/2013 8:32:42 AM

figmo59 replied to topic 'I'm Crowin..!' 5/22/2013 8:31:56 AM

schlange commented on blog entry 'Announcing the first-ever Banjo Hangout Online Contest!' 5/22/2013 8:30:56 AM

JoeDownes replied to topic 'MP3 format Question for BHO Jukebox' 5/22/2013 8:26:39 AM

Banjophobic replied to topic 'Pentatonic scale and melody' 5/22/2013 8:25:00 AM

Sam 2 replied to topic 'Cookin' in the rain, just a cookin' in the rain....' 5/22/2013 8:24:15 AM

mikehalloran replied to topic 'RK blems' 5/22/2013 8:18:20 AM

Sam 2 replied to topic 'Cookin' in the park, just a cookin' in the park....' 5/22/2013 8:17:32 AM

jojo25 replied to topic 'Best sounding/playing custom banjos today?' 5/22/2013 8:14:59 AM
Reviews
Cases (Soft, Gig Bags) Reunion Blues CONTINENTAL Gig Bag
Bridges Half-moon
Chuck Lee Tubaphone model (Bill Rickard tone ring)

Music (92 files)
Newest Photos