View frailin's Homepage

Read frailin's Bio

Contact frailin
You must sign into your myHangout account in order to contact frailin.
www.frailin.com
Playing Since: 1968

Experience Level: Purty Good

frailin has made 9 recent additions to Banjo Hangout



Interests:
[Teaching] [Jamming] [Socializing] [Helping]

Occupation: Web publisher (Autism Hangout dotcom), writer, teacher and now, documentarian! Yee-ha!

Gender: Male

Age: 64

My Instruments:
Right now I play 2 Chuck Lee Marble Falls, both with Bill Rickard tubaphone tone rings. I love sampling other banjos, but have settled on Chuck's for their consistent performance (legendary neck sensitivity) and sound.

For 10 years I played "Old Time Gospel and Bluegrass" with a MPLS-based group called Singleton Street. We've recorded two CDs: "Wingin' It", our Gospel music and "Almost Live" our first CD.

My old-timey group is the Eelpout Stringers. These guys are great fun! Check out some of our music on my MP3 page. Other cuts also found at: www.eelpoutstringers.com

Favorite Bands/Musicians:


Got LOTs of influences. From Unca Dave Macon and Stringbean right up to several of today's performers (i.e. Dwight Diller, Mac Benford, Mark Schatz and Joe Newberry). My favorite of all time though, is "Old Wide Load"... Tommy Thompson of the Red Clay Ramblers. And someone here on the hangout that's incredible is frailblazer (Ric Hollander).



Classified Rating: (+5)
Rate this Member

Profile Info:
Visible to: Public
Created 10/26/2005
Last Visit 6/27/2017

Friday, February 13, 2015 @11:23:43 AM




It took us a while (4 years) but once we got around to it, it went pretty fast.

Here's our newest CD - "Waterbound!"
Got some fine old-time square dance chestnuts on here as well as a classic Doc Watson ballad (sung by Keeper, of course). There's a fiddle number written by Rayna Gellert and another waltz by my late fiddler friend, Debbie Sorensen-Boeh.
While waxing nostalgic, we even included a 1960's New Christy Minstrels tribute ("I Was Born 100,000 Years Ago"). It's what turned me on to traditional music at the tender age of 8. My dad took me to hear 'em at Buena Vista College in Storm Lake, IA. 54 years later, that warm thought still gives me goose-bumps.

Sound clips of all tracks are here or here.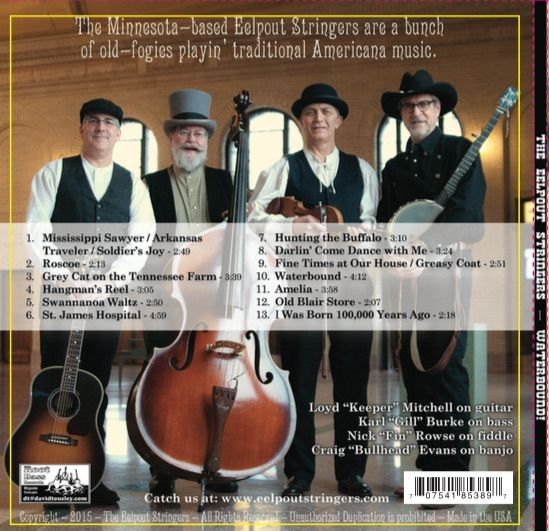 If you're interested, they're $15 (plus $2.50 S&H) at www.eelpoutstringers.com. Should have 'em back from the duplicator sometime late next week.
Thanks folks.
Craig
Recent Forum Posts
Completing Will Fieldings Last Order (5 days ago)
Patrick Heavner on Get Up in the Cool Podcast (6 days ago)
Open back banjo backpack gig bag (9 days ago)
Minnesota Homegrown Kickoff (28 days ago)
Round Peak Banjos, Back in business (41 days ago)
Kevin Fore Kyle Creed model (50 days ago)
Windrose Banjos (59 days ago)
Is this a bad time to be selling banjos? (77 days ago)
Video Editing Software (93 days ago)
Rotator Cuff Problems - Possible Banjo Induced Trauma? (161 days ago)
are pisgah banjos not desirable? (398 days ago)
Folk Music of the upper Midwest (411 days ago)
Humility among professional musicians (542 days ago)
A LUTHIERS LIFE (1095 days ago)
WARNING: Spammers selling banjos (1679 days ago)
Find all non-archived posts by frailin
Groups
BOWLIN 1865 BANJO CLUB
Minnesota Banjo Pickers
Anthology of American Folk Music
Enoch Banjo Group
DOUGLAS UNGER BANJOS - fans and owners
Great Lakes Banjo Co.

Friends
frailin has 4634 friends. View entire friends list.

Reviews
Cases (Soft, Gig Bags) Reunion Blues CONTINENTAL Gig Bag
Bridges Half-moon
Chuck Lee Tubaphone model (Bill Rickard tone ring)

Music (105 files)
Newest Photos