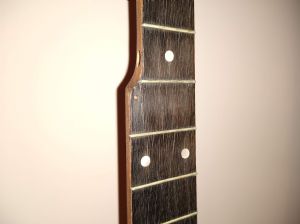 You're right. The fifth string "pip" or nut used to be there. That's probably the stump of it cut off at the surface of the fretboard.
Most typically these are just behind the fifth fret, even though that creates an intonation problem. To solve that, the slot on some of those located behind the fret is cut deep enough so that the string rests on the fret and the pip is merely a guide. Another fifth string intonation solution is to install the pip in line with the fifth fret, shortening the fret to make room for it. And some banjo makers do away with the pip altogether and use a spike to hold the fifth string against the fifth fret.
I've seen a 21st century Chinese-made Washburn with the pip in front of the fifth fret like this one. I have no idea what that was about. But know this: Putting the pip in front of the fifth fret is only an intonation problem for players who fret the fifth string. While many do, those who never fret the fifth string can tune it to whatever pitch they want and it will be in tune. If they should install capo spikes or a fifth string sliding capo, they'll have to retune every time they use it.
If this were my banjo, I'd have either a pip installed in line with the fret or a spike right behind it.
BUT . . . on this banjo, it appears the maker didn't leave enough room to install a pip behind the fret without crowding the 4th string. Likewise, the fifth fret doesn't look long enough to accommodate a good spiked string location without also crowding the 4th string. I think the maker realized his mistake at the fifth fret and putting the pip in front of the fret was his only choice, short of trashing the neck and starting over.
Good luck.