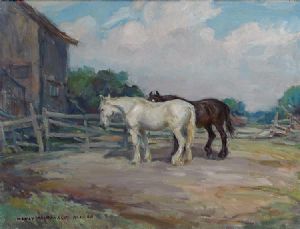 Manly McDonald- Horses in a Farmyard
(Did Manly's brother, Ronly McDonald, turn them into burgers, thereby launching his international fast-food franchise??)
--------------------------------------------------
Good morning from the peaceful and fictitiously renamed village of Sonova Beach.
Weather for cast today: "Sonova BEACH, it's-a gonna be hot & humid!" 90 degF.
Today is the day I haul my maple & walnut logs over to the saw guy.
Eventually, there will be banjos made from the wood.