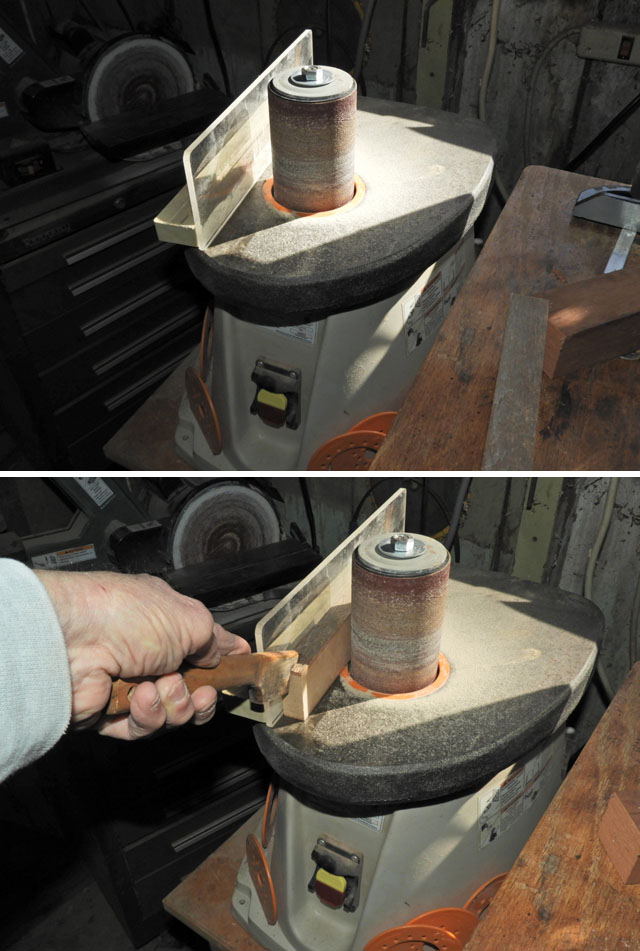 This idea is not new, but has a few good features, and it's unusually cheap and easy to make. No substitute for a real drum sander, but it doesn't cost $800 bucks either.
All you need is a spindle sander with a cast iron bed. To make the fence I used one of those bar magnetic knife holders you can screw to the wall. I simply super glued a scrap piece of plexiglass to the side of the knife holder to act as a moveable fence. ( plywood, masonite, etc. would work just as well ) Adjust the position of the fence so that when you feed the workpiece between the fence and the sanding drum, you can shave off a few thousanths at a pass. Use a push stick to guide it through the gap. Adjust how much you want to take off with a few light taps with a small hammer to bring the fence in or out from the sanding drum.
Will only accept wood up to the height of your spindle, but usefull for small items, such as peghead laminations, guitar bridges, saddles, fretboards, etc. Makes precise cuts, and the magnet grabs the work plate very tightly, with little chance of slipping if you take normal cuts. And keeps both sides of the workpiece perfectly parallel. With a bit of practice you can make smooth, even surfaces.
I haven't tried it yet, but I suppose you could flip the workpiece over to double the width of the cut.
By the way, the magnetic fence will stick just as well to the table on your bandsaw for doing some small re-saw work.
DD