Ludwig never made a five string banjo. Too bad for that. I've played a number of conversions and made two of them myself, (three were the "Capitol" model.) and they make for an excellent bluegrass and/or frailing banjo. They made their all-metal pots from bronze, and are still as solid as the day they were made. Their higher-end and top tension models (the ones with gold plating rather than nickel) have pot metal tension hoops, which deteriorate over time. Their tension hoops are grooved rather than notched, so any suibstitute tension hoop of the correct diameter can be mounted regardless of the hook spacing.
Here is the rim/toner ing as found:


They made two flavors of rims. One without a flange and one with. I've made a conversion neck for both models. They are a bit more complex than most other brands, but not too terribly difficult to fit neck to rim. I made a cardboard template that fit the rim closely, and used it to trace the neck heel. Once the heel cut is made on a bandsaw, or whatever, you just have to carve out the center portion of each contour to provide clearance for the rim shape. The neck only needs to fit tightly on the outside edges of the heel, so is not worth sweating blood over. Once the tracing is cut out, I shaped the curvatures to fit the rim using a shallow-cut carving chisel. Go slowly and check fit frequently and it can be done.

Hear is a shot of the original pot as found: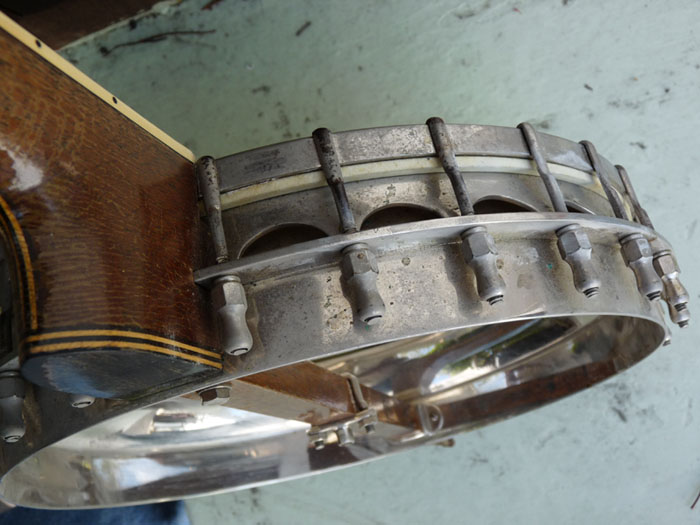 And here it is after a quick cleaning: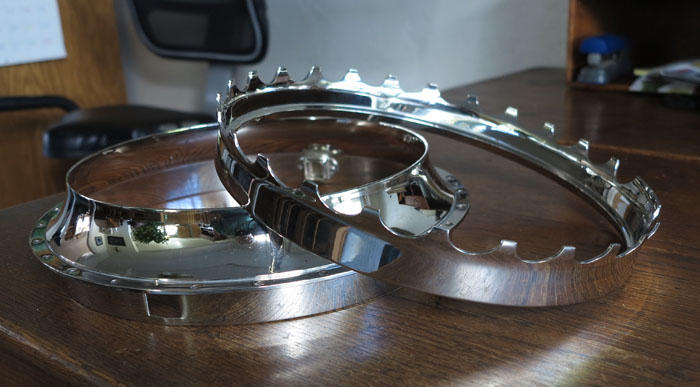 The rim and tone ring are made of nickel plated bell bronze.
As an anecdote, I read that a ludwig conversion banjo was the favorite practice banjo of Ralph Stanley when they were traveling on their tour bus.
DD