Hello people! Nice to see my account is still active and familiar names/faces still around after I had a long hiatus from the banjo!

I'll spare the whole backstory: I'm learning 2-finger at the moment. I previously was, I think, pretty ok with clawhammer and I had a number of basic bluegrass rolls committed to muscle-memory before I switched to CH. I've learned 3-4 tunes (thumb-lead) from Doc Turknett's YouTube channel and will doubtless be a paid-subscriber later this year. At the moment I have Sebastian Schroeder's 3 books in front of me (one for index-lead, one for thumb-lead, one for mixed-lead). My target, must-learn song is Wayfaring Stranger which is a mixed-lead arrangement (and I don't want to compromise on a simplified thumb-lead version).
So I've started in on the index-lead book with Cripple Creek (gDGBD) and getting my right-hand to behave is seeming harder than I remember when trying to first learn the bum-ditty for CH. Specifically, I'm doing ok picking a melody note on the top two strings (the B and high-D) but can't keep my ring&pinky planted or half-float accurately when doing the lower two strings (the low-D and the G). Such as this measure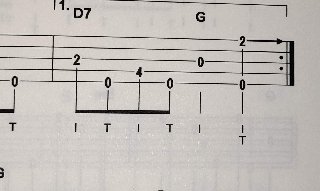 It feels easier or more natural to switch back to thumb-lead on these two strings and just hit the high-D for the drone note (or even fret it at the fifth) here. And the intro to SS's mixed-lead book specifically mentions the ease of hitting the strings as a driving reason to learn mixed-lead in the first place. So my question is
1. Should I push myself to learn Cripple Creek and a few other songs as-they-are, index-lead across all 4 strings, and ignore the tempting shortcut? Or...
2. Go ahead and learn to play these songs in a mixed-lead style where it feels natural since that's kind of the goal anyway?
I'm torn between the NO SHORTCUTS admonition and the "play however pleases you" & "banjos don't have rules" line of thought. I have no particular goals except to play alone at home, amuse friends&family, maybe one day play along with others. I don't want to do myself a disservice but I don't want to waste time on a micro-skill I won't really use.
Edited by - Barnacle Joe on 05/26/2020 16:33:04