I just went on Banjo Hangout to put a review of Donald New's "Spillway Dam" bridges on the platform, and found this 2011 review that I posted - while my Little Bear Banjo Hospital business was still in full swing.

https://www.banjohangout.org/archive/195710
https://www.banjohangout.org/archive/195710

I stand by these comments that date back to 2011.

I put one of Donald's Maple bridges with a rosewood cap on my new Mark Ralston 21 inch scale banjo, and that bridge brought out the best in this little banjo.

In fact, each of the three bridges I ordered in his Combo Pack: the 100 Year Old Barn Wood Bridge and the Original Spillway Dam Bridge, added dimension to the sound I get out of that banjo, but I liked the maple best. I'm keeping the others to share with students and friends who might (when the quarantine is lifted . . .) come by to trade tunes.
I cast around quickly for a box I could store the New Bridges in, and came up with a tin that once contained mints sold by a popular grocery store.
Inadvertently, that led to the idea for New ORGANIC BANJO BRIDGES . . .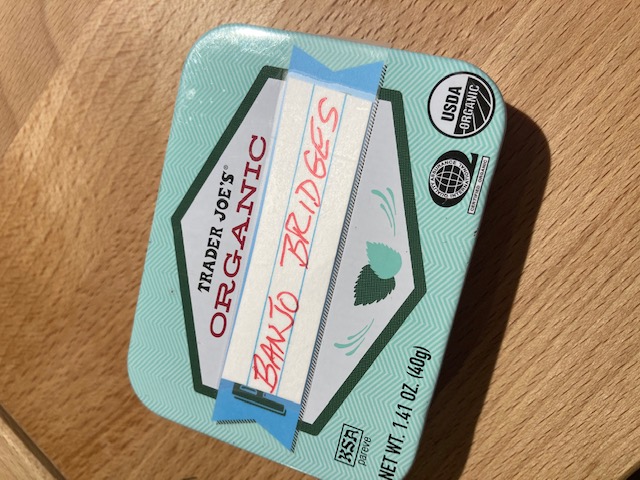 Play hard,
Lew