TOTW - The Little Old Log Cabin in the Lane
aka
Little Joe the Wrangler
or
The Lily of the Valley
There are many old songs that have different titles and lyrics but share a melody. Examples? God Save the Queen was "Americanized" into My Country 'Tis of Thee. The American Civil War song Aura Lee was re-written to become Elvis' Love Me Tender. And Battle Hymn of the Republic was irreverently turned into the popular Boy Scout campfire song Pink Pajamas. (I wear my pink pajamas in the summer when it's hot; I wear my flannel nighties in the winter when it's not…)
This week we don't just have a "two-fer," it's "three-fer"! No! It's a four-fer! And more!
The Little Old Log Cabin in the Lane was written in 1871 by William "Shakespeare" Hays (1837 – 1907). It was written in a dialect to be played in minstrel shows (which may account Hays' work being mistaken with that of Stephen Foster).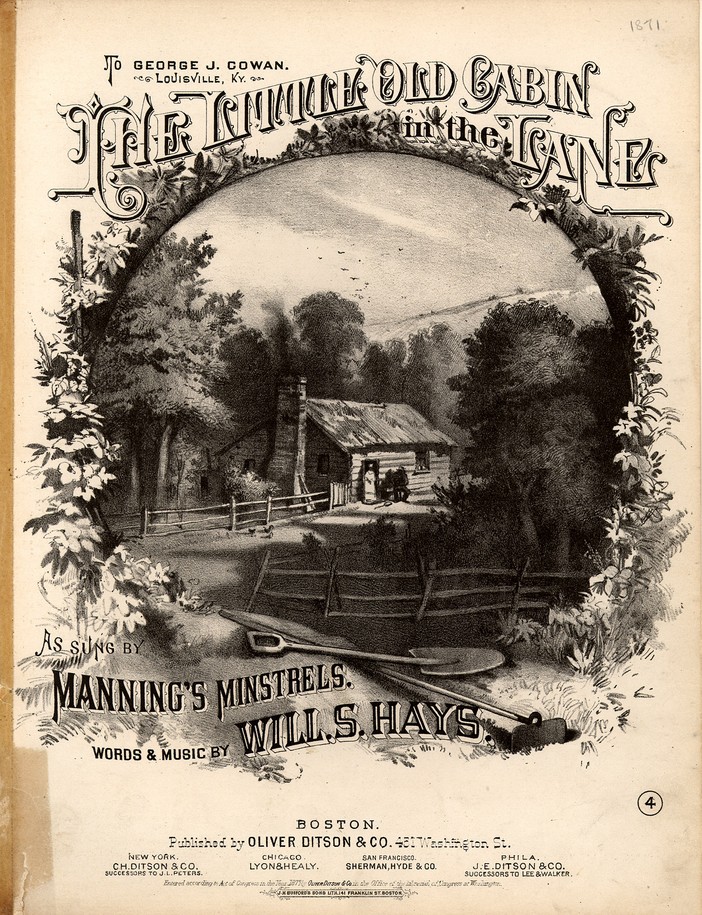 Hays was a prolific song writer and poet. He claimed to have written the song Dixie, but was unable to prove it
I found the original lyrics online, but I'm not going to print them here.
I don't know how popular the song became, but it appears people were at least familiar with the melody because it was used for lyrics to other songs, which we will cover. The song was also eventually purged of its dialect, and the lyrics were changed to reflect a different (and more acceptable) story:
Little Old Log Cabin
I'm growing old and feeble and I can't work no more
My rusty bladed hoe I've laid to rest
My mama and my papa they are sleeping side by side
And their spirits now are roaming with the blessed
Oh, the chimney's falling down and the roof is all caved in
Letting in the sunshine and the rain
And the only friend I've got now is that good old dog of mine
And that little old log cabin in the lane
Oh the paths have all grown up that led around the hill
The fences have all gone to decay
And the creeks have all dried up where we used to go to mill
And things have changed their course another way
Oh I ain't got long to stay here, what little time I've got
I want to rest content while I remain
'Til death shall call this dog and me to find a better home
Than that little old log cabin in the lane
The earliest recording I can find is by Carroll C. Clark (real name Clarence C. Clark 1885 – 1957?), an African American singer and banjoist. He had several recordings of this song, and it seems the earliest was made in 1909.
Listen to the banjo accompaniment. It's great.
In 1918 the Metropolitan Quartet recorded their rather operatic version on an Edison cylinder.
In 1923 it was Fiddlin' John Carsonwho used the song to establish his new career as one of the very first country music artists.
Following up, Riley Puckett had a version in 1926 .
Also in 1926 Earnest V. Stoneman and His Dixie Mountaineers recorded their version. Earnest was actually born in a log cabin near Galax, Virginia. He is the the father of banjo player Roni Stoneman.
BHO members are probably very familiar of the circa 1928 newsreel of "Uncle" John Scruggs performing on his banjo. I recall a lively discussion and some controversy, but I can't recall exactly what. Yes, it was staged, but the singing and banjo playing was for real.
There is a long list of old time musicians who recorded the song, but generally aren't available online. I thought one of the more interesting performers was Alma Gluck who recorded her version in 1919. Alma became famous in her own right but isn't known today. However every boomer BHO member knows her son: Efrem Zimbalist, Jr.
Let's throw in a little Wade Mainer and say we're good for now.
I know of only a couple of places where you can find an "Old Time" tab for banjo. One of these is on page 62 of Mel Bay's "Frailing the Five String Banjo." and "Parking Lot Picker's Songbook – Banjo", Page 160.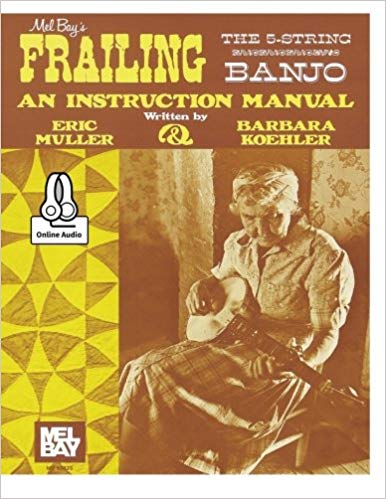 And for us "clawhammer" players, here is how I think it should sound: Jimmy Rush
Of course there are many more modern bluegrass-y and country versions on the 'net, and you can find them as necessary.
However now I want to turn to what I think is interesting about this song.
Around 1880 O. E. Murray (1857 - 1919) of South Dakota wrote a poem, Little Old Sod Shanty on the Claim, and it was suggested to sing it using the melody of LOLCITL. Most folks sing "my" claim.
Little Old Sod Shanty on My Claim
I am looking rather seedy now while holding down my claim
And my victuals are not always served the best,
And the mice play shyly 'round me as I nestle down to rest
In my little old sod shanty in the West.
Yet I rather like the novelty of living in this way
Though my bill of fare is always rather tame,
But I'm happy as a clam on the land of Uncle Sam
In my little old sod shanty on my claim.

Chorus:
The hinges are of leather and the windows have no glass
While the board roof lets the howling blizzard in;
And I hear the hungry ki-yote as he slinks up in the grass
'Round my little old sod shanty on my claim.

Oh when I left my eastern home, a bachelor so gay
To try and win my way to wealth and fame,
I little thought that I'd come down to burning twisted hay
In the little old sod shanty on my claim.
My clothes are plastered o'er with dough, I'm looking like a fright
And everything is scattered 'round the room,
But I wouldn't give the freedom that I have out in the West
For the table of the Eastern man's old home.

Chorus:

Still, I wish that some kind-hearted girl would pity on me take
And relieve me from the mess that I am in,
The angel, how I'd bless her, if this her home she'd make
In the little old sod shanty on my claim.
And we would make our fortunes on the prairies of the West;
Just as happy as two lovers we'd remain.
We'd forget the trials and troubles we endured at the first
In the little old sod shanty on my claim.

Chorus:

And if kindly fate should bless us with, now and then, an heir
To cheer our hearts with honest pride of fame,
O then we'd be contented for the toil that we had spent
In the little old sod shanty on our claim.
When time enough had lapsed, and all of those little brats
To noble man- and woman-hood had grown,
It wouldn't seem half so lonely as around us we should look
And see the little old shanty on our claim.

Now, this song can be found in some of the old western song books, such as John Lomax's Cowboy Songs and Frontier Ballads, (1918).
Here are a couple versions by The Singing Cowboy Jules V. Allen (1929)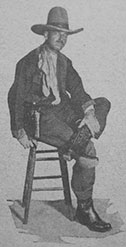 and Yodeling Slim Clark.
I could not find a version by Rhubarb Red, whose real name was Les Paul – Yes, that Les Paul. The Les Paul Guitar inventor guy.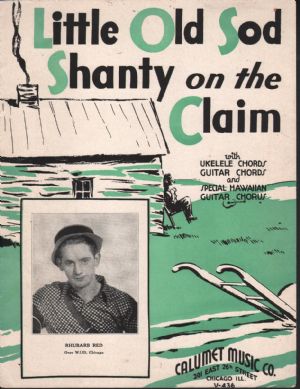 And here's my favorite just because of the pictures.
When I lived in Wyoming I would occasionally drive by a ranch that still had an original old "soddy." A colleague was familiar with it and told me that someone had lived there until relatively recent and that it had been wired for electricity. What was it like living in a sod house?
And how were they built?
In the same Cowboy Songs book mentioned above there is a song named Little Joe the Wrangler and set to the "Cabin" tune. It was written in 1898, attributed to a 6'2" 200lb. New Yorker Nathan Howard (Jack) Thorpe(1867 – 1940). Thorpe himself was a chronicler of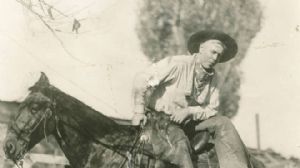 cowboy songs and published a songbook a couple of years before John Lomax.
Little Joe the Wrangler
Little Joe, the wrangler,
will never wrangle more;
His days with the "remuda"
—they are done.
'T was a year ago last April
he joined the outfit here,
A little "Texas stray"
and all alone.
'T was long late in the evening
he rode up to the herd
On a little old brown pony
he called Chow;
With his brogan shoes and overalls
a harder-looking kid
You never in your life
had seen before.
His saddle 't was a southern kack
built many years ago,
An O.K. spur on one foot
idly hung,
While his "hot roll" in a cotton sack
was loosely tied behind
And a canteen from the saddle horn
he'd slung.
He said he'd had to leave his home,
his daddy'd married twice
And his new ma beat him
every day or two;
So he saddled up old Chow one night
and "lit a shuck" this way—
Thought he'd try and paddle now
his own canoe.
Said he'd try and do the best he could
if we'd only give him work,
Though he did n't know "straight" up
about a cow;
So the boss he cut him out a mount
and kinder put him on,
For he sorter liked the little stray
somehow.
Taught him how to herd the horses
and to learn to know them all
To round 'em up by daylight;
if he could
To follow the chuck-wagon
and to always hitch the team
And help the "cosinero"
rustle wood.
We'd driven to Red River
and the weather had been fine;
We were camped down on the south side
in a bend,
When a norther commenced to blowing
and we doubled up our guards,
For it took all hands
to hold the cattle then.
Little Joe, the wrangler,
was called out with the rest,
And scarcely had the kid
got to the herd,
When the cattle they stampeded;
like a hailstorm, long they flew,
And all of us were riding
for the lead.
'Tween the streaks of lightning
we could see a horse far out ahead—
'T was little Joe, the wrangler,
in the lead;
He was riding "Old Blue Rocket"
with his slicker 'bove his head,
Trying to check the leaders
in their speed.
At last we got them milling
and kinder quieted down,
And the extra guard
back to the camp did go;
But one of them was missin'
and we all knew at a glance
'Twas our little Texas stray
—poor wrangler Joe.
Next morning just at sunup
we found where Rocket fell,
Down in a washout
twenty feet below
Beneath his horse, mashed to a pulp,
his spurs had rung the knell
For our little Texas stray
—poor Wrangler Joe.
Baxter Black had some poignant memories about this song.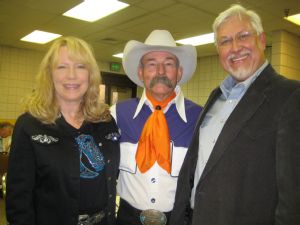 Again, I call upon Jules Allen to sing his 1929 version.
My favorite version is the one with Don Edwards playing a banjo, the way it should be performed – in my mind anyway.
All the cowboys gotta sing it, but I'd be knocked out of the saddle if I didn't include Roy Rogers.
And just for something that's, uh, a little different. . . I give you Marlene Dietrich
So, are we done yet? No.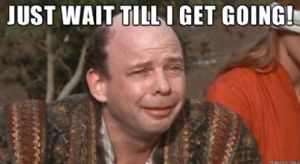 It's alleged that Tom Beasley authored Little Adobe Casa in 1887. I didn't do an exhaustive search for that information, so I'll take it at face value. The song was included in Howard Thorp's early book mentioned above. The lyrics are:
Just one year ago today
I left my eastern home,
Hunting for a fortune and for fame.
Little did I think that now
I'd be in Mexico
In this little adobe casa on the plains.
Chorus
The roof is ocateo,
The coyotes far and near
The grea . .
Wait. If you want the traditional lyrics go find them online. I ain't written 'em and startin' some controversy.

Movin' on, if you are someone into all the old train and railroad songs, here is one for you: The Little Red Caboose Behind the Train, as sung by Paul Warmack and his Gully Jumpers. The lyrics by the The Pickard Family seem more likely to me.
And there's more! Just learn the melody of this one tune, and then learn the lyrics to several songs and you'll have your whole set ready for the next time you're entertainin' at the local nursing home.
Maybe you'd like "Another Fall of Rain" as sung by an Australian Bush Band from Canberra. You'll find the lyrics here: http://folkstream.com/003.html
Here's a nice version by Bill Berry.
How about "Beans, Bacon, and Gravy?" People insist it can be sung to the "Cabin" tune. I listened to several versions including Pete Singer, but I have trouble hearing it. Regardless, the lyrics are:
Beans, Bacon, and Gravy
I was born long ago, in eighteen ninety four
I've seen many a panic I will own
I've been hungry, I've been cold, and now I'm growin' old
But the worst I've seen is nineteen thirty one

Oh those beans, bacon and gravy
They almost drive me crazy
I eat them 'til I see them in my dreams
In my dreams
When I wake up in the morning
And another day is dawning
I know I'll have another mess of beans

Well we congregate each morning, at the county barn at dawning
Everyone is happy so it seems
But when our day's work is done, and we pile in one by one
And thank the Lord for one more mess of beans

Chorus

We've Hooverized on butter, and for milk we've only water
And I haven't seen a steak in many a day
As for pies, cakes and jellies, we substitute sour bellies
For which we work the county road each day


The melody has been adapted somewhat but recognizable in Poor Naomi Wise by Aunt Idy Harper and the Coon Creek girls.
What about "Hungry Hash Blues"? Can't leave out Charlie Poole, can we?
There's probably others. But I want to finish up with the one version that I learned long ago.

On page 87 of my old Baptist Hymnal is the song and tune with which I am most familiar: The Lily of the Valley. The lyrics were written by William Charles Fry (1837 – 1882) the year before he died.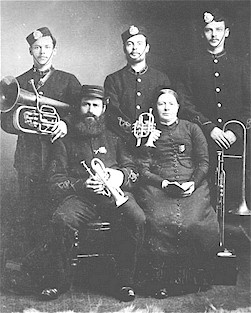 Fry was a bricklayer, who, along with his sons, became the earliest band members of the Salvation Army in London. It was evangelist Dwight L. Moody's song leader Ira Sankey(1840 – 1908)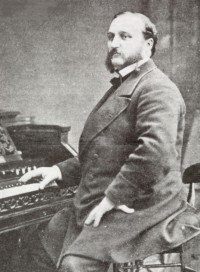 the writer of "The Ninety and Nine" who set the lyrics and arrangement to Hays' minstrel song.
It is thought that the scripture that inspired the song came from Song of Solomon 2:1 I am the rose of Sharon, and the lily of the valleys. And Revelation 22:16 "I, Jesus, sent my angel to give you this testimony for the churches. I am the root and offspring of David,* the bright morning star."j
The Lily of the Valley
I've found a friend in Jesus, He's everything to me,
He's the fairest of ten thousand to my soul;
The Lily of the Valley, in Him alone I see
All I need to cleanse and make me fully whole.
In sorrow He's my comfort, in trouble He's my stay;
He tells me every care on Him to roll.
Refrain:
He's the Lily of the Valley, the Bright and Morning Star,
He's the fairest of ten thousand to my soul.

He all my grief has taken, and all my sorrows borne;
In temptation He's my strong and mighty tow'r;
I've all for Him forsaken, and all my idols torn
From my heart and now He keeps me by His pow'r.
Though all the world forsake me, and Satan tempt me sore,
Through Jesus I shall safely reach the goal.

-Refrain

He'll never, never leave me, nor yet forsake me here,
While I live by faith and do His blessed will;
A wall of fire about me, I've nothing now to fear,
From His manna He my hungry soul shall fill.
Then sweeping up to glory to see His blessed face,
Where rivers of delight shall ever roll.

He's the lily of the valley, the Bright and Morning Star, He's the fairest of ten thousand to my soul.
Here is beautiful version in the Navajo language.
Here is a version that includesold time banjo.
And one of my favorite versions is by the Sons of the San Joaquin.
And for the single note banjo tab I can direct you to Nathan Sarvis' website.
I've used Nathan's site a lot for those old time hymns.

My father was not a musical man in any way. Like his son, he couldn't really carry a tune, but when the congregation sang, he sang along. One evening at church as all were standing and singing from the hymnbook, dad was heard singing on the opposite page and mom had to elbow him. The lady behind him leaned forward and said, "It's all right Jim; we're singing in rounds!"
Dad's favorite hymn was "Lily of the Valley" and so it was sung by a quartet at his funeral.
Edited by - Wyozark on 04/10/2020 06:28:06