Here's one for ya now with more holidays coming up!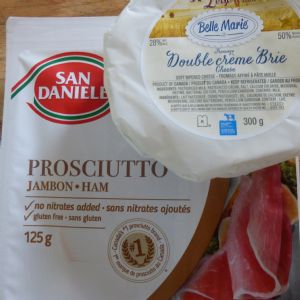 Lay out the prosciutto like a star or the petals of a flower. Set the brie in the middle. Fold the petals to cover the cheese. Bake in the oven or smoker until the brie curls up a bit & the cheese gets gooey. Not too long.
If you look it up you'll see where you can chill then cut the cheese in half & put a grilled piece of pineapple in the middle like a sandwich. You can also smear the top before wrapping with your favorite jam.
I've grilled slices of apple & pears with a drizzle of honey to have along side for that sweet & salty mix.
Some toasted baguette or crackers & Bob's yur uncle!
Oh yeah! You can wrap the whole mess up in puff pastry too or make individual bites.
I promise there won't be any leftovers!