quote:

---

Originally posted by mhickler

Rudy, I am hoping you and others will chime in and add to the available knowledge.

I want to make the videos that I wish I could have found when I started researching it. Unfortunately the real masters have not done it. Boy, would I like to see a video by Bob Anderson or Glenn Carson!

I almost thought there was a secret society of engravers who were suppressing the spread of information. After I got into it I realized that there are just so many hours in the day!

---
There is a "Engraving pearl" topic from the archives that a few BHO members contributed to, including Glenn Carson. The only thing I can contribute is the information (very basic!) that I included in the Workingperson's banjo construction guide. Here's a copy / paste of what I posted in the referanced "Engraving pearl" topic:
*****************************
Simple inlay designs aren't difficult to do; here's an example shot from The Workingpersons 11 construction guide photo sequence showing simple engraving with a sharp pointed scribe. The tip is just a sharpened piece of 1/16" high speed steel drill bit stick in a simple aluminum holder. Scribed lines can be easily filled with a fine point Sharpie permanent marker followed by a polishing with 400 grit to clean up the lines. Quick and easy.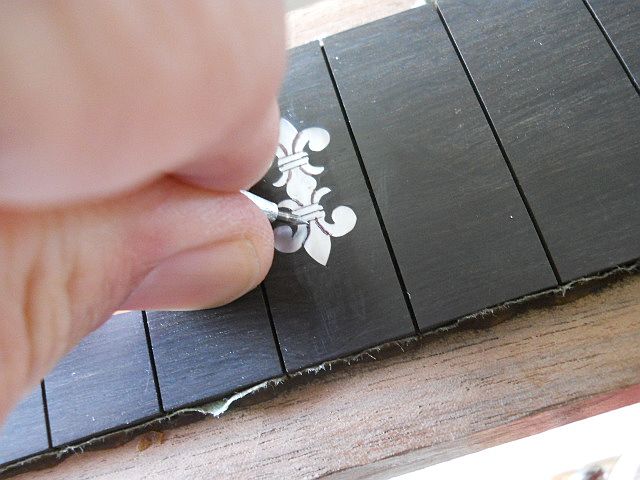 ****************************************