Hey folks!
I just picked up an interesting fixer-upper. It's somebody's cool and funky old homemade 5-string neck on what looks like an older Gretsch tenor pot.
Looks like the previous owner put a lot of hours of playing into it. There are deep divots in the fingerboard and first few frets, plating worn off the armrest, all nice things to see.
That truss rod cover is a thick, solid chunk of brass that's been filed into shape. There is a truss rod nut underneath, so not purely decorative like the 60's Japanese aluminum banjo I had for a while. Not certain if the wood is walnut or some especially chocolatey-brown mahogany. I think Gotohs or the newer banjo-specific PegHeds will look nice in place of the guitar tuners.
There's a separate fretboard that looks like the same kind of wood as the neck. I think the inlays are real pearl. They are very...pearlescent, and hard. The fifth string pip is a little chunk of bone that almost looks like a tooth, held into the side of the neck with a flathead screw. If you look closely, you can see where the neck's maker initially cut the hole for the 12th fret inlay at the 13th, then very carefully filled it.
Here's some photos of the inside of the pot. The resonator is formed into a lip or sleeve that slides snugly onto a routed a edge on the back of the pot.
Here you might be able to see that the armrest is soldered to two of the hooks, and that the builder drilled a hole in the tenor Presto tailpiece for a fifth string. Also they made an improvised No-Tip bridge: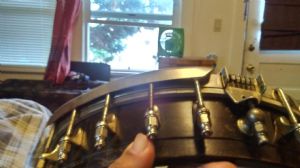 Before I get to start playing it, the major issue that needs fixing is the lifting fretboard.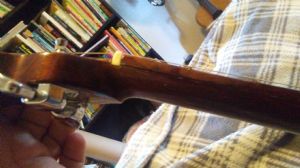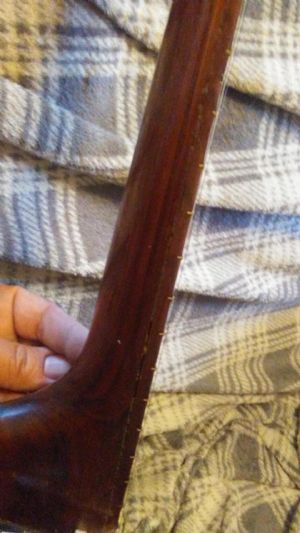 Looks like somebody tried to reglue it with something sludgy in the past. I'll see if I can carefully use a heat gun to loosen it, then clean and true everything and glue it back on.
Thanks for looking! If anyone has any recommendations or advice, I'd be glad to hear them.
Edited by - motorbuffalo on 08/23/2019 23:13:33