Janet contacted me about two weeks ago and asked if I had a tune for the TOTW this week. I was just recalling an old Swedish tune that I had heard during the Midsummer Festivities, and that was common when I was young. I said yes to the TOTW, so here is another weird Swedish traditional tune that I have tried to transfer to banjo.
The song (or tune)
So this week's TOTW is an old traditional Swedish song called Domaredansen, which means "Judge's Dance" or "The Dance of the Judge". It is often used for "round dances": at Christmas when dancing round the Christmas tree, and at Midsummer (6 month later) when dancing round the Midsummer pole or May pole. I think that all kids have to learn this song in the music classes. However, the song has also gained a wider interest. There are several choir arrangements and jazz arrangement and it is also international known.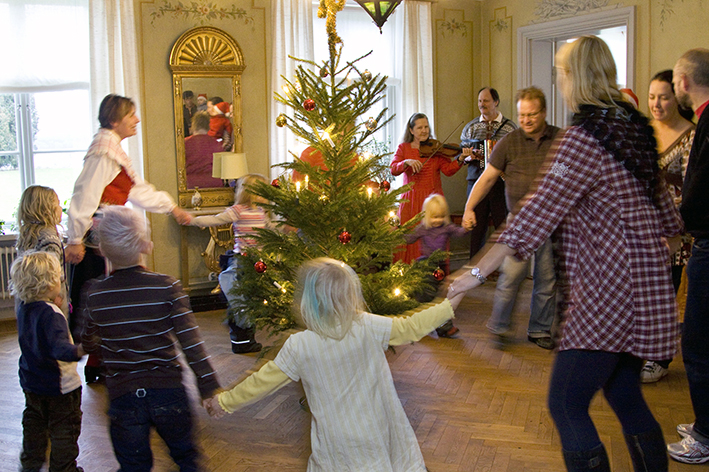 It is not a banjo or tune! I cannot remember hearing it on banjo or fiddle. As I remember it was accordion plus guitar or piano that accompanied the song during the round dances. However, when fooling around with the tune, I found that it a really nice banjo tune!
Some recordings
Even if the tune/song from the beginning was a round dance song it has nowadays gained a wider popularity. It seems to be especially popular to choirs, both Swedish and international choirs, and when looking for videos on "Domaredansen" on YouTube a lot of choir arrangements appears. It has also been recorded by some Swedish jazz musicians.
Here are some recordings as example:
Lyrics
The lyrics goes (in Swedish with a translation to English)
Nu vilja vi begynna en domaredans,
Now we will start a dance for the judge,
men domar'n är inte hemma.
but the judge is not at home.
Alla de som i domardansen gå,
All those who take part in the dance,
deras hjärtan skola brinna.
their hearts will burn.
Alla säga de: hå, hå, hå.
They all say: ho, ho, ho.
Alla säga de: nå, nå, nå.
They all say: oh, oh, oh.
Har du drömt om din käraste i natt,
If you dreamed of your beloved last night,
skall du mot ljuset le.
(you will) smile at the candle.
Visit this site if you are interested to sing the Swedish lyrics with the right pronunciation: https://www.showme.com/sh/?h=LsB1TxQ)
Tabs and notation
I have tabbed out a clawhammer arrangement in the Tab archive: https://www.banjohangout.org/tab/browse.asp?m=detail&v=23812
I also made a two-finger thumb lead version (with some index lead in some places): https://www.banjohangout.org/tab/browse.asp?m=detail&v=23813
I will try to post a recording later during the weekend. I am struggling with a brand new computer and I have not learned all facilities in it yet.
Even if I have tabbed out the tune as one part, I think of the tune as divided into three parts:
Part A (four measures) played twice
The B part or "bridge" has two measures and is played twice. It is some kind of nonsense lyrics and also nonsense melody (mainly B and A on the third string)
The C part is four measures played once. It starts as a repetition of the A part but turns out to an "Outro" or Exit.
Here is a pdf with notation and lyrics: https://www.stefanlinden.se/V/visa%20Domaredansen%20Sanglek%20Afzelius4-34.pdf (the lyrics seems to be a little different than above).
And here is notation from an old song book from 1907: https://www.hangoutstorage.com/banjohangout.org/storage/photos/medium/10/10381-1331681972019.jpg
I will try to add an own recording later during the weekend. I have a new computer with a lot of unknown facilities and I am in the middle of the vacation so there are other activities that are competing with the banjo just now.
Edited by - janolov on 07/19/2019 12:34:44