When we left off my first neck build in February (!), I was getting ready to glue multiple veneers on the back side of the peghead to hide and reinforce the butt joints of a slab and smaller piece of wood I had added to correct my planing it too thin in attempting to correct having somehow cut the back side on a skew.
The veneers were going to be .01 black, .02 white and 3/32 walnut. Probably due to poor clamping, the black veneer had bubbles in an area that needed to be flat because it was going to remain after shaping, so I scraped it off to start over. I bumped up the black to .02 and pre-laminated it to the white. This .04-thick glued-up sheet was much stiffer, not likely to bubble, and took to the volute sweep much better. And as luck would have it, a scrap piece of clamshell door/window casing had just the right curve for forcing the veneer into the volute for clamping. Photo below shows the setup. Also shown is the result with all veneers in place, as well as the black pearwood peghead overlay glued on.
Because my thin overlay was weak in the area between truss rod access hole and peghead base, where the overlay has no backing, I glued a small bridge of wood there. I tested with a truss rod tool to be sure that the nut will be adjustable with this wood in place -- and that no glue seeped into the rod.
And that's where I've been since mid-April -- over two months ago. Which brings us to today.
I don't know what to do next. And everything I need to do scares me. Most of it I've never done before.
Since my preference is to inlay and fret the fingerboard after the neck is fully shaped, I believe that what I do next is glue on the fingerboard (which is already bound), then cut the peghead shape (exactly how, I'm not sure), then carve the neck, then inlay and fret.
I suppose I could inlay the board before gluing it to the neck. That would require finally choosing the inlay I want and practicing on appropriate hardwood -- either 1/4-inch walnut or maple boards I can get at Home Depot or on B-grade low-cost fretboard woods such as padauk or katalox from LMI or eBay. My actual fretboard is rosewood -- profiled and pre-slotted by Tim Davis. I suppose I could also get a piece of low-grade rosewood to practice on.
As to inlay, I've always liked the CM pattern from Bryan England's Custom Inlay,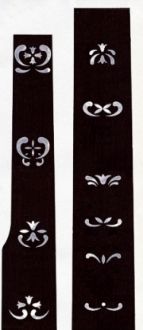 but I think it's too advanced for a first effort. So I'm thinking now of one of the art deco guitar inlay sets from Andy DePaule. I need to confirm the pieces will fit a banjo. Height is no concern, since banjo scale is longer than guitar. It's width I have to double check.


I think these would be easier for a first-time inlay. Also, I'm thinking of simplifying my peghead shape from my original idea of a fiddle shape that combines 1970s Ode and Fender, to a paddle style based on the photo below of an art deco room badge from Chicago's Edgewater Beach Hotel. The shape needs stretching or other modification to achieve good proportions for a banjo peghead.
Thanks for reading so far. I appreciate any and all advice. I'll ask other questions as the conversation continues.