Carolan tunes—O'Carolan if you prefer—make great Christmas tunes, or holiday tunes. The merry melody below is not a beginner tune, but beginners can get started on it and start stretching their fingers.
The recording is a highly ornamented version of 'Carolan's Draught' played twice with backing chords and bass notes.
The tab (2014) is slightly different to the arrangement in 20 O'Carolan Irish Classics (2015).
'Carolan's Draught' is in Celtic fingerstyle, a 3-finger style that uses a vast array of fretting-hand and picking-hand techniques to play melismatic, intervallic and rhythmic variations.
Please find the TAB here: JPEG.
The RECORDING (from 20 O'Carolan Irish Classics) is almost identical to the TAB.
Can you hear the Baroque-style decorations and variations on the recording?
* * * * *
Carolan scholar Thomas Campbell (Philosophical Survey of the South of Ireland, 1777), whose material was not derived from books but by personal investigation, wrote about Carolan's uncanny ability:
His ear was so exquisite, and his memory so tenacious, that he has been known to play off, at first hearing, some of the most difficult pieces of Italian music, to the astonishment of [Italian Baroque composer] Geminiani. (This story may have some holes in it.)
Carolan loved his drink by all accounts. O'Sullivan, Carolan's greatest biographer, observes, "His fondness for strong drink didn't differ in degree from that of most of his harper-contemporaries, but it has become the subject of legends in his case because of his greater celebrity." Source: Donal O'Sullivan, The Life, Times and Music of an Irish Harper, (Cork: Ossian Publications, 2001 edition), p. 97.
All the colorful anecdotes about Carolan (aka Signor Carrollini), e.g. challenging an eminent Italian composer to a trial of skill—implying or assuming (as Edward Bunting does) that it was Geminiani—derive from Oliver Goldsmith's essay on Carolan (1760):
Being at the house of an Irish nobleman [Lord Mayo?], where there was a musician present [Geminiani?], who was eminent in the profession, Carolan immediately challenged him to a trial of skill. To carry the jest forward, his lordship persuaded the musician to accept the challenge, and he accordingly played over on his fiddle the fifth concerto of Vivialdi. Carolan, immediately taking his harp, played over the whole piece after him, without missing a note, though he had never heard it before: which produced some surprise but their astonishment increased, when he assured them he could make a concerto in the same taste himself, which he instantly composed, and that with such spirit and elegance, that it may compare (for we have it still) with the finest compositions of Italy. Source: Donal O'Sullivan, The Life, Times and Music of an Irish Harper, (Cork: Ossian Publications, 2001 edition), p. 89-90.
Irish writer Oliver Goldsmith, who, like Carolan, lived by his wits in pursuit of his art—even busking on his flute when he was starving, is famous for a poem, The Deserted Village—thought to be Glasson village—just down the road from where I live today—where they say he was born and later certainly lived with his family. (Glasson is near Ballymahon, Co. Longford.)
He tells us this about Carolan:
Of all the bards this country ever produced, the last and the greatest was Carolan the blind. He was at once a poet, a musician, a composer, and sung his own verses to his harp. The original natives never mention his name without rapture; both his poetry and music they have by heart; and even some of the English themselves who have been transplanted here, find his music extremely pleasing .... Whenever any of the original natives of distinction were assembled at feasting or revelling, Carolan was generally there, where he was always ready with his harp, to celebrate their praises. He seemed by nature formed for his profession; for as he was born blind, so also he possessed of a most astonishing memory, and a facetious turn of thinking, which gave his entertainers infinite satisfaction." See also: http://archiver.rootsweb.ancestry.com/th/read/IRELAND/2006-01/1136768563
* * * * *
My Carolan tune collection lays bare many of the most-revered and most-played tunes by Carolan. It is transcribed in standard notation and tablature (G-tuning). Someone who plays the concertina, fiddle, pipes, or whistle could easily pick up Carolan tunes from it. Backing players would also find it useful for chords and bass notes (on the recording). 20 O'Carolan Irish Classics has Notes on the Tunes, with playing tips and anecdotes about the man, his patrons, inspirations, dreams, and the like.
Don't forget to check out the TAB and RECORDING.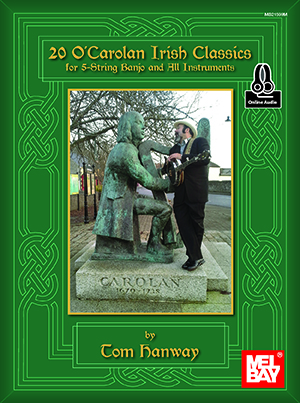 (Click to view)
20 O'Carolan Irish Classics—in eBook and book form—both come with free online audio downloads of the tunes.
Happy Holidays!
Tom
Edited by - Tom Hanway on 04/12/2018 18:58:38