So we come to the last part of the resonator construction. That is finishing.
I use short oil varnish on the banjos I make. While I really like the benefits, I am reluctant to recommend the method to beginning banjo makers,
because the process can be somewhat tricky,is time consuming, takes a long time to cure, and has a rather steep learning curve.
That said, I'll add a few notes on how I approach it.
To begin with, since varnish is so slow to dry, you need to find a fairly dust-free place to do it. For me, it's my back bathroom.
I don't spray on the varnish but apply it by hand with foam brushes. They lay down the varnish smoothly, and I don't bother cleaning them,
but throw them away and use a new brush for each coat. Since we aren't spraying the finish, there is no problem with overspray.
I pick up the rugs, vacuum well, close the door and turn on a household air purifier. The purifier pulls any floating dust particles out of the air,
and keeps them from settling on my wet finish. I lay down some newspaper to catch any drips and support the neck, rim or resonator in some way to suspend it,
yet give me a good handhold for picking it up and turning it around while working. In this case, I clamped the little latch post on the inside in a heavy desk vise.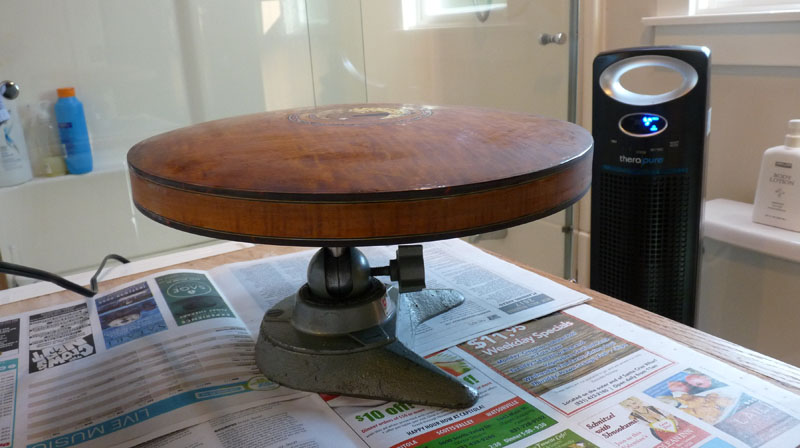 I always stain maple, and alter the color as it suits me at the time. So I won't delve into the staining process here, but will assume your piece is already stained,or will not be stained. On the Crow banjo I used maple, so no grain filler was necessary. With walnut or mahogany, or other open grained woods, I would fill the grain before sealing. Once stained I give the wood a coat of sealer. I generally use Zinsser Sealcoat, which is a thinned de-waxed shellac. Keep away from standard hardware store shellac, as it contains waxes, which will keep your varnish from hardening properly.
The sealer dries quickly, and in an hour I lightly go over it with 0000 steel wool. Just enough to smooth it and create a little tooth for the varnish to grab on to.
I can then give the wood it's first coat of varnish. Depending on the brand of varnish, I usually use it straight out of the can. You have to develop a feel for varnish to determine whether to thin it or not. If too thick, it will sag. If too thin, it won't level properly. It's best to experiment on a piece of scrap wood first. Varnish will dry dust freein a couple of hours, and you want to avoid stirring up dust while it's drying.
I let each coat of varnish cure for at least 24 hours. Then I give it a light scuff sanding to smooth it out and give it more tooth. Varnish dries very glossy, and it needs the tooth to give it a better mechanical bond with the underlying layers.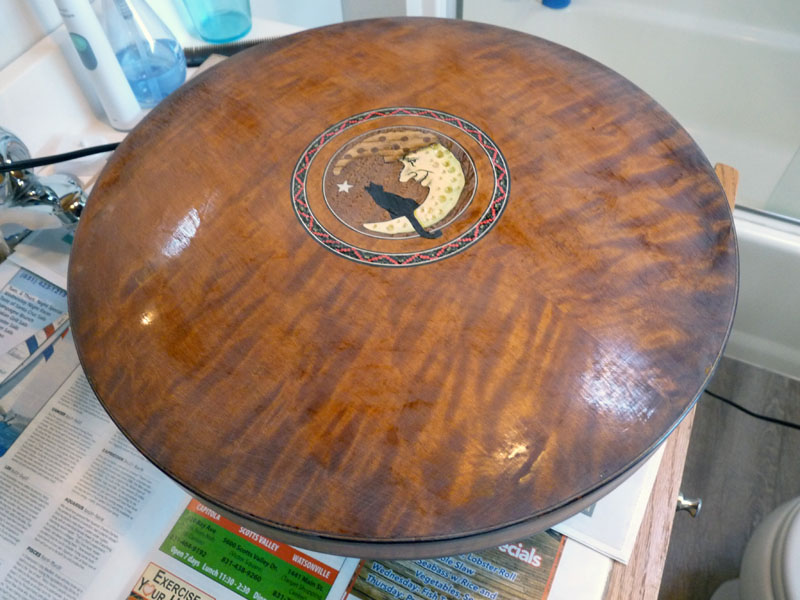 Here are my tools for sanding between coats: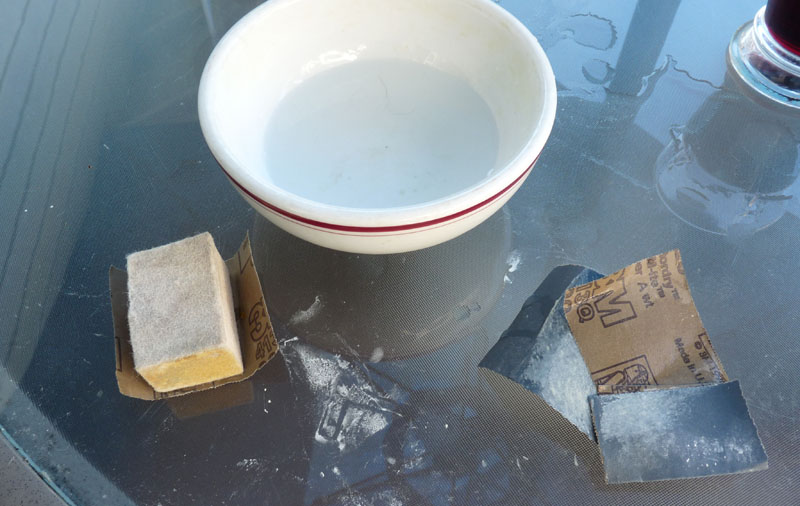 I start out with 800 grit wet or dry sandpaper wrapped around a felt block. I dip the paper in water before sanding. You want to use a light touch, as
you don't want to sand down to bare wood, but simply smooth out any bumps, and create a hazy finish. On maple I usually give the wood three or four
coats of varnish with a day's drying time between coats.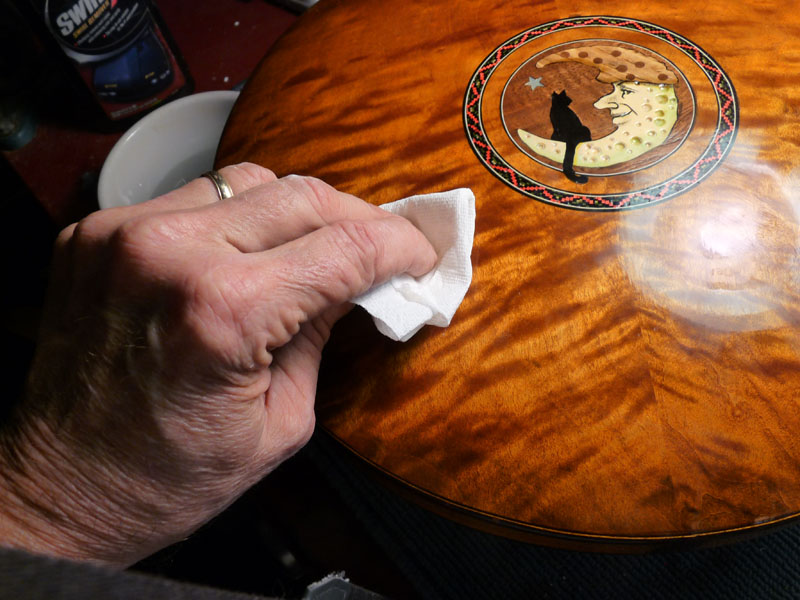 After the last coat, I go over the finish with a damp pad dipped in powdered pumice. Once again, you need to avoid scrubbing through the final layer
or you will have witness lines showing when you buff it out.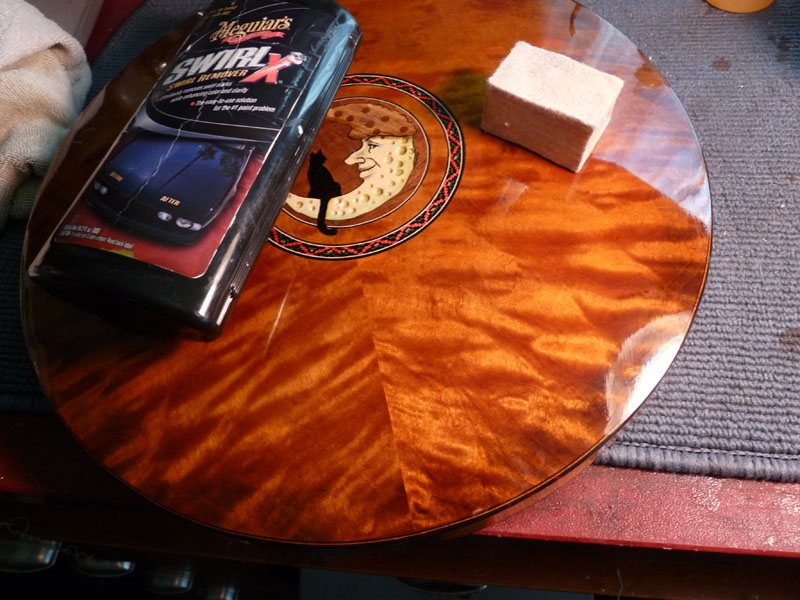 I do the final polishing with a fine liquid polishing compound. I would wait a minimum of two weeks before rubbing out. Varnish doesn't reach full hardness for
months, and the longer you let it harden, the better polish it will take. On the resonator I choose to wait two or three months before giving it the final rubbing.
A final coat of paste wax ( Renaissance is probably best, but any good wax will do ) is optional.
On the inside of the resonator, I simply stain it and give it a quick coat of de-waxed shellac, applied with a rag.
One of the last steps on the resonator is to add pieces of felt on all contact surfaces. I've tried many colors, but keep coming back to green.
Use a good quality felt, You can tell by feeling it. The cheap stuff feels flimsy and shreds easily. I lay it down with contact cement.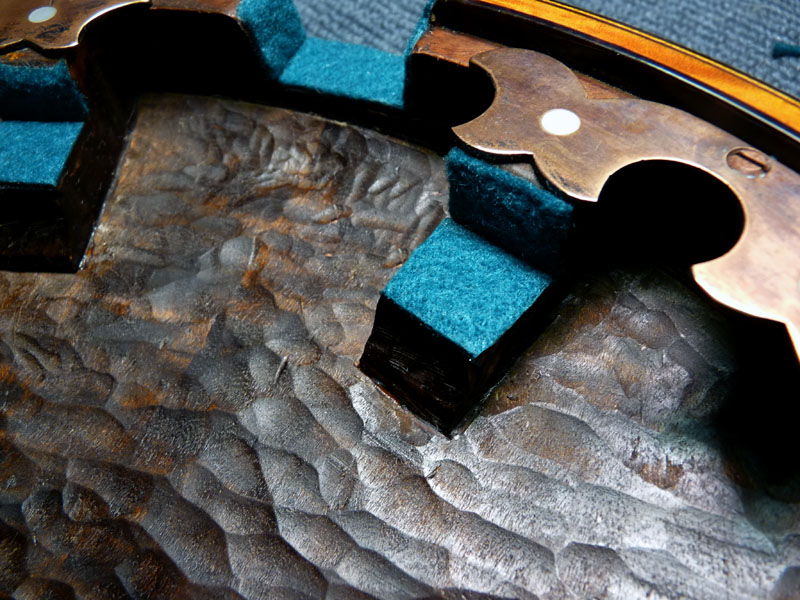 And that's how I build a resonator. I hope it was of some interest. My techniques are unconventional at times, but hopefully the results justify the means.
Thanks for looking.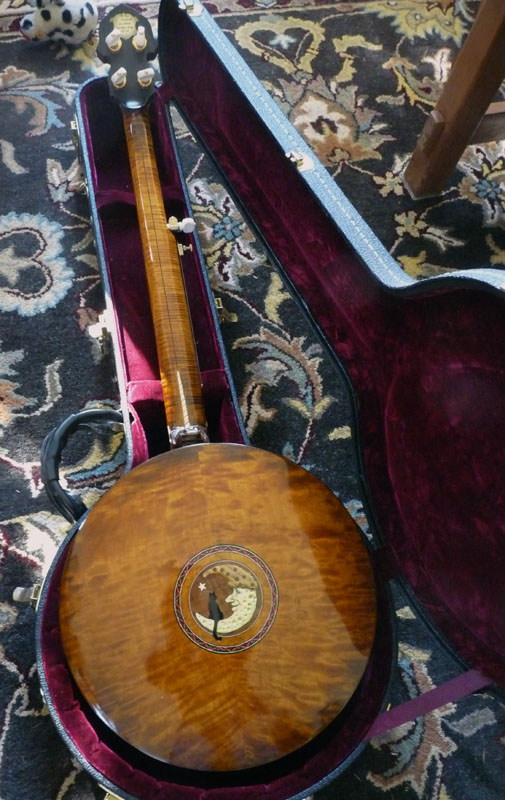 DD
Edited by - Dan Drabek on 11/15/2017 07:49:17