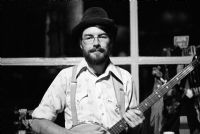 Teaches Lessons: In Person
Styles: Clawhammer and Old-Time
Levels: Beginner
Teacher Since: 2013
Pricing: $30 per hr.
Listing Created: 3/8/2012
Listing Updated: 10/23/2014
More About Me
My name is Tanner, I have been teaching Old-Time clawhammer banjo for about a year now in the SLC area. I specialize in teaching beginners, and will take intermediate students.

I teach at a luthier shop in SLC called Mckinley Sound (https://www.facebook.com/McKinleySound?ref=br_rs). My charge is $30 per half an hr, the lowest rates you will find in this area of Utah. We also do discounts if you pay for a full months lessons up front.