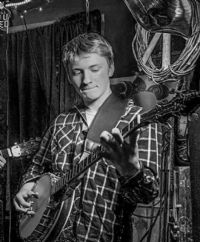 Teaches Lessons: Online, In Person
Styles: Bluegrass (Scruggs) , Other
Levels: Beginner, Intermediate, Advanced
Teacher Since: 2019
Pricing: $40 an hour
Listing Created: 8/16/2019
Listing Updated: 8/16/2019
More About Me
Peter began playing in 2016, but has already surpassed one teacher and studied with many world-renowned banjo players.

In 2018 he received a scholarship to attend Bela Fleck's inaugural Blue Ridge Banjo camp in North Carolina, where he studied with Bela Fleck, Kristen Scott Benson, Tony Trischka, Mike Munford, and Steve Cooley. He received another scholarship to the 2019 Midwest banjo camp in Michigan, studying under Ryan Cavanaugh, Greg Cahill, Danny Barnes, and others. He regularly takes lessons with Catherine "BB" Bowness of the award winning progressive bluegrass band Mile 12. He also takes fiddle lessons with Bronwyn Keith-Hynes, also of Mile 12, and renowned Vermont musician Patrick Ross.

Peter now plays in the up-and-coming bluegrass trio The Burds Brothers, and attends Goddard College in Vermont, where he studies musical composition.