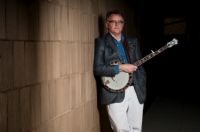 Teaches Lessons: In Person
Styles: Bluegrass (Scruggs) , Clawhammer and Old-Time
Levels: Beginner, Intermediate, Advanced
Teacher Since: 1978
Listing Created: 5/10/2012
Listing Updated: 5/22/2017
More About Me
Jim has been playing and teaching banjo since 1977. He has been a contributor to the premier banjo publication The Banjo Newsletter. You will also find him listed among the faculty alumni at highly esteemed acoustic music and banjo camps such as Steve Kaufman's Acoustic Camp in Maryville, Tennessee, Banjo Newsletter Workshops and The Maryland Banjo Academy in Buckeystown, Maryland. Jim has recently taught classes at the Folk School of Chattanooga.

Jim is an active and well respected member of the banjo and musical communities and continues to pursue the banjo's music and its marvelous history. As an often reluctant yet always fierce competitor Jim's banjo prowess has earned him many titles in contests all across the southeast.
Comments
I met Jim back in the days of his online group "The Banjo Lounge". He was the first person I know of to host chatroom 'workshops' via his site. His skills as a player became quickly evident to me, and his willingness to share it impressed me.
If you desire to play either oldtime or Bluegrass styles, Jim knows how to do it and teach it. He might even teach you a magic trick, or yo-yo stunt too, if you ask him to pick 'nice'.
He really is a talent guy and dedicated player. He'll teach you the 'right' way. - Banjophobic
I have watcher Jim's 10 lessons on YouTube and loved every minute of it. I've had my banjo for several years and Jim convinced me to drag it out of the closet. I can now play better than I ever thought I could. Ya gotta love this guy. The way he looks over his glasses and talks to ya. He's down to earth like most of the rest of us. Thank you so much Jim.. You make my day. - gclar
I have been trying to learn banjo for over a year. Jim's video had me playing in 2 days. I was almost ready to give up till I found his videos and now I'm so excited to get to the point where I can watch another one of his videos. I Have 2 songs that I can play in just over a week. Thanks for getting me playing Jim Pankey. - Redneckkg43
You must sign into your myHangout account before you can post comments.