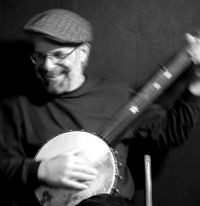 Teaches Lessons: Online, In Person
Styles: Clawhammer and Old-Time
Levels: Beginner, Intermediate, Advanced
Teacher Since: 1985
Pricing: $40/hr.
Listing Created: 11/15/2011
Listing Updated: 11/27/2012
More About Me
I've been playing the banjo for over 50 years, and teaching for at least half that time.

If you have heard me play, you know that I can't do anything exactly the same way twice, and the same goes for my teaching. Every student is different, and I will do my best to understand what you want to do with your instrument, and to help you to get down to doing it.

In addition to clawhammer, I play and teach a wide variety of traditional 2- and 3-finger picking styles.

While I am not a professional-level bluegrass picker, I know the basic Scruggs rolls and riffs, and more importantly, I know RHYTHM, and can provide a solid foundation in bluegrass style as well.



Comments
I had a lesson from you several years ago in Elkhart during which you tried to refine my rhythm, which I had been wrong for many years. Family issues prevented me from progessing much since then, but now I am in a good position to resume. Let me know when you can teach online.
John McGraw
Plano, TX
(214) 554-2842 - John McGraw
This guy knows music. Doesn't really matter what you need to learn about playing the banjo or how well you can already play...or whether you can play anything at all yet--you'll learn something if you visit him. He's been very receptive to my specific questions, and has been extremely patient with me when I've had to go over the same stuff repeatedly. He's been willing & able to work with me on whatever I want to do, all the while bringing focus back to the essential fundamentals. Without a doubt worth it to visit him if you want to play music. - bryanshepard
You must sign into your myHangout account before you can post comments.