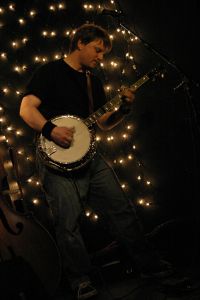 Teaches Lessons: Online, In Person
Styles: Bluegrass (Scruggs) , Clawhammer and Old-Time
Levels: Beginner, Intermediate, Advanced
Teacher Since: 2001
Pricing: $60 per hour
Listing Created: 12/1/2011
Listing Updated: 7/6/2015
More About Me
SANDY ISRAEL is available to teach you banjo. As a teacher, I am systematic, patient and experienced. I teach and play banjo full-time, performing steadily in the New York scene with the band CITIGRASS and others. I have been teaching banjo in New York since 2001 and have taught somewhere in the area of 4,000 lessons on both banjo and guitar. My goal is to work with you to give you everything you need to practice and learn to play better. I provide all the teaching materials and teach students how to practice effectively so that they advance steadily.

I specialize in getting beginners started. (Not many New Yorkers grow up playing banjo. ) I'll teach you all the basics from the very beginning and get you playing quickly. I can answer your questions right from the beginning and customize the lessons to fit exactly your abilities, inclinations, personality, strengths, weaknesses and goals.

I also work with all levels up to and including performing players.

Here's some of the stuff we cover. You can:

Learn to play bluegrass, rock, folk, blues
Learn to play solos
Learn how to practice effectively
Learn to jam
Break speed barriers
Learn proper technique and fingering
Learn chords and scales
Learn to memorize pieces
Learn to write solos
Learn to play backup banjo
Write original banjo parts for your favorite songs
Learn to sing and play
Clear away the confusion
Get your questions answered clearly
Learn music theory and song structure.
Learn how a band functions and what the banjo player's job really is.
Learn to perform, solo or with a group – in public or just for friends.
Learn the various styles of 3-finger banjo: Scruggs, melodic and single-string.

SO DROP ME A LINE AND LET'S GET TO WORK.