Posted by Russell Carson
[download]
- Play count: 1735
Size: 3,150kb, uploaded 1/9/2007 10:58:04 AM
Genre: Bluegrass / Playing Style: Bluegrass (Scruggs)
One more old timey D tune with fiddle and banjo. My dad is on fiddle and I am on banjo. First time we tried it like this together. We play a few tunes late at night once in a while, and this one has a few bumps as we were figuring it out as we went. There are a few more tunes on his BHO page.
---
2 comments on "Julianne Johnson"

flange5st Says:
Tuesday, January 9, 2007 @8:08:55 PM
Great playing!! ........I played alot of tunes with my Dad when I was your age... Some of the best memories I've got....I'm sure they'll be the same with you..........Peace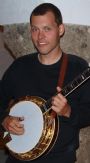 Violanjo Says:
Wednesday, April 30, 2008 @4:27:14 PM
This is one of the best Fiddle and Banjo playing I have heard in the BHO.
You must sign into your myHangout account before you can post comments.